nsw
myall river camp weekend
Saturday 5th to Sunday 6th February 2021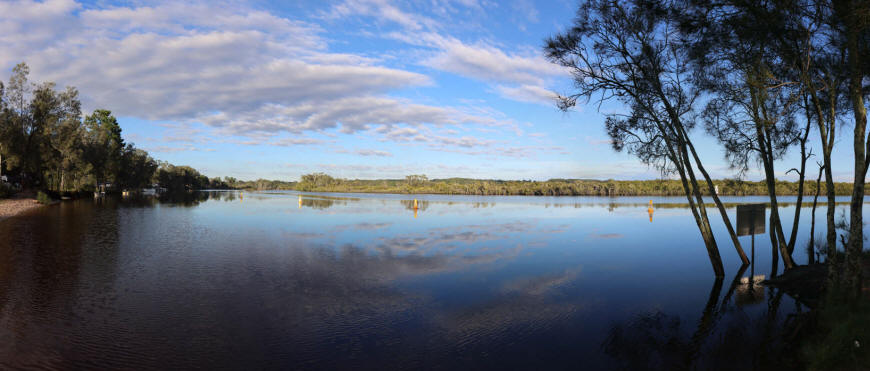 Due to Covid restrictions and a few other changes Myall River Camp this year was a little different but as always a wonderful time to catchup, chat and share knowledge, hosted by Mal & Ros.

24 CamperTrailers Group members worked their way around Myall River Camp's booking system to attend the first official NSW meet for 2021 and to dust off last year's Covid shackles.

Seven campers arrived on Thursday to enjoy an early start around the fires. Numbers grew to 22 by Friday, with everyone enjoying the catchup with old friends. Some campers were reunited for the first time since our last meet at Lake Wallace when Covid started in early 2020. It was great to meet and welcome a number of new people to the group.

By Saturday our numbers had swelled to 25 campers plus several day visitors. The planned happy hour and dinner were clearly going to be affected by rain, so we took the decision to set up several gazebos. This led to the amusing efforts of several unnamed helpers who spent some time trying to put up one of the gazebos inside out! Eventually the problem was resolved and the gazebo was successfully set up, and a "dry" happy hour was had by all, despite the consistent rain. Sunday dawned fine and sunny, so we were able to congregate on the beach area and enjoy each other's company, chatting, sharing and the usual technical discussions on camper related projects.

Campers who had to work packed up on Sunday and left. Most remaining campers packed up on Monday except for a few dedicated campers lucky enough to stay on till Tuesday.

Many thanks to site managers Cheryl and Vince who contributed to making the weekend as smooth as possible.

Thank you to all those who attended contributing to making it such a relaxing, friendly and enjoyable weekend. Looking forward to camping with you all again soon in the near future.

Mal and Ros