SE Qld members weekend
Neurum Creek Bush Retreat
Held on the weekend of Friday, Saturday & Sunday, 5th, 6th & 7th of November 2004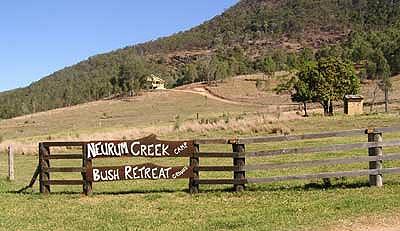 Neurum Creek Bush Retreat ( www.ncbr.com.au ) was chosen as the venue for the second South East Qld CamperTrailers Forum get together & Friday 5th, Saturday 6th & Sunday the 7th November 2004 were the chosen dates.
NCBR is adjacent to the Mt Mee State Forest & less than 90 mins north of Brisbane, once turning off the D'Aguilar Highway just outside of Woodford it is an easy 15 minute drive.
It was originally planned to be the Saturday & Sunday but as time went on it was discover that over half the attendees were in fact " wagging " work on Friday to make it a long weekend. Rex & Ann had actually decided to make a week of it & arrived at NCBR on the Wednesday & stayed through till the Wednesday after, not a bad lurk I must say.
We departed Brisbane on the Friday morning around 9.00am in the company our friends Mark & Tammy who had 6 month old baby Cameron on his first Camper Trailer expedition, with the skies opening up & dumping on us on the North side of Brisbane, starting what turned out to be a thoroughly enjoyable but pretty wet weekend. Many others turned up around the same time as us & by lunch we had most of the crew on site & set up ready for the weekend ahead, unfortunately the rain arrived as forecasted and set in pretty well, not allowing too much activity other than to hop from Camper to Camper & do the all important introductions & socialising.
Those of us who were set up got to watch a few arvo arrivals set up in the rain, Annette & I had our 12ft x 20ft extension zipped on the front of our standard awning so we had plenty of room for socialising at our place. I just have to mention Les & Sue Webb from Toowoomba, who arrived late in the arvo when it was raining quite " heavily " and proceeded to set up with no apparent interest in the drenching they were receiving, the only tell tale of the downpour was the plastic raincoat/poncho's they were wearing. We had ourselves & 5 others under our awning having a late arvo cuppa (Penny Heath was drinking Rum) & had full view of Les & Sue's effort, and watched them closely for quite a while & too their credit we saw no evidence of a domestic dispute at all, how they did it so quickly & calmly has got me beat. Once they got organised & wandered up to our place for a relaxing drink they amazed us all by telling us that in fact it was the first time they had set up the annexe & walls, having only used the camper previously without the awning. You 2 deserve a Medal.
The rain continued regularly during the rest of the day & night & was quite heavy on occasions, & stopped any chance of lighting a fire or having any sort of outdoors group gathering at night so it was a case of bunny hopping from camp to camp between the showers, & trying to leave your empty bottles under whoever's camper trailer you last visited. Pretty early night was had by all, hoping for a fine day Saturday so we could get on with the weekend.
Saturday mornings weather wasn't great, and the forecast was awful & the sky wasn't showing any promise, so it was a case of make the best with what ever weather we were dished up.
Being so close to Mt Mee State forest we wanted to go for & drive & general wander around, we had John Heath in the group who mentioned on Friday (over a rum of course ) that he & Penny had done a lot of 4WDing in Mt Mee Forest with the Mitsubishi Club of Qld and was equipped with a GPS with lots info & tracks so John was appointed trip leader for a Saturday morning trip into the Forest.
So John & Penny, Les & Sue, Paul & Fern, Nick & Ben, Mark & Tammy, Annette & I took Robert Martin with us as he didn't have a 4WD headed off in the drizzle.
John took us on a great drive & we ended up at a lookout, with views over Lake Somerset & the Stanley River. Once again the rain put an end to our lookout expedition so we ventured down to the Sawmill site picnic area of the forest, some staying on for lunch & others returning to camp.
Saturday arvo saw the arrival of a few late stragglers & more relaxing & camp wandering to check out each others set ups.
The owners of NCBR had organised for a local winery to hold a hold a Wine Tasting at NCBR at 4.00pm on Saturday & must say this created quite a bit of interest amongst the campers, by 10 to 4, I don't think anyone was left in camp, however we ran into a little technicality with the owners of the Winery forgetting to turn up for the event.
A quick reminder phone call from NCBR had them arriving at about 4.45pm, but most of us had got sick of waiting & returned to camp to start our own happy hours at various sites around the park.
Saturday night was another a missed chance for a campfire due to wet weather, so any socialising was limited to camp jumping between rain showers. Our awning was full all night with people coming & going, & I made sure no one left their empty booze bottles under our camper. We broke out a box of Cadbury's favourites for all to share, what I had forgotten till we got home & unpacked was I had bought 2 x 18 packs of Lamingtons for after dinner, sorry folks it was accidental I promise.
Sunday morning was a pretty relaxed time, with many taking a break in the clouds mid morning to pack up, & say a few goodbyes before heading off for home.
The highlight of the morning being a visit to Rex & Ann's camper for morning espresso coffee as only they can serve it, it's a BYO milk deal with them, so be warned, lucky I like black coffee.
Rex is the King of Electrical Gadgets & we must get him to send some pics of his " Loo Torch " and do a write up for the Tech Tips section of the camper website outlining the components, tools & instructions required to assemble this piece of equipment. After having seen it I get the feeling Rex must have been involved in the building of Spacecraft some time in his life.
We stayed the extra night along with Mark & Tammy, Malcolm & Desiree & of course Rex & Ann who were the there for the week.
Monday morning was the best weather we had since we left home, luckily we had a dry pack up & headed off home around lunch time.
We also had some day visitors over the course of the weekend, who couldn't make it camp for the weekend & these included Alan & Kathy who had purchased an Aussie Swag Camper the night before, we also had Scott & Maria visit.
Also I have to thank John, Judy, Dave & Narelle the owners of NCBR for their hospitality & have to say how good it was to be in a park where the owners were genuinely happy to have us at their place.
Finally I also have to clear up a little matter in relation to someone you all met that weekend, & he introduced himself as the Reverend Malcolm Lee, who happens to be Tammy Weirs step father.
NCBR have a strict speed limit, and enforce it politely, well it was casually mentioned to the Reverend that he should slow down a little around the park.
He promptly came back to camp & told us all he had been fined $ 10.00 for speeding & got all the sympathy & attention he wanted for the rest of the weekend.
Well the old bugger was pulling your legs, he didn't get fined at all.
Thanks to all those who attended & sorry about the weather.
Cast of NCBR is as follows;
Mark & Annette with Dudley the dog
Jeep Grand Cherokee & Cape York Camper Trailer
Nick & Ben. (Annette's son & Mate)
Jeep Wrangler & tent each
John & Penny Heath with Rum bottles & knitting needles
Pajero & Trackabout Camper Trailer
Paul & Fern Smith
Toyota Hilux & Tent.
Mark & Tammy Weir with baby Cameron & Khan the dog
100 Series Landcruiser & Customline Camper trailer
Malcolm ( Reverend ) & Desiree Lee
Speeding Nissan Patrol & Customline Camper
Col & Lillian
Mitsubishi Challenger & Jayco Caravan
Robert Martin
Ford Fairlane & Cub on-road Camper
Paul & Kate Dukes with 2 doggy's, Papillons Minky & Bella,
100 Series Landcruiser & Highlander Camper
Rex (Magnus) & Ann
Mazda Tribute & Modcon Camper
Dave & Marg Clodd
Nissan Navara & Aussie Swag Camper
Kevin & Karen Bourke with Samantha & Benjamin
Jeep Grand Cherokee & Camel Camper
Les & Sue Webb with Cocco the dog
Jeep Grand Cherokee & Aussie Swag Camper.
Thanks to Mark for putting the report together
| | | | | |
| --- | --- | --- | --- | --- |
| | | | | |
| | | | | |
| | | | | |
| | | | | |
| | | | | |
| | | | | |
| | | | | |
| | | | | |
| | | | | |
| | | | | |
Thanks to Mark, Robert & Fern for the photos