easter at old bara
near mudgee nsw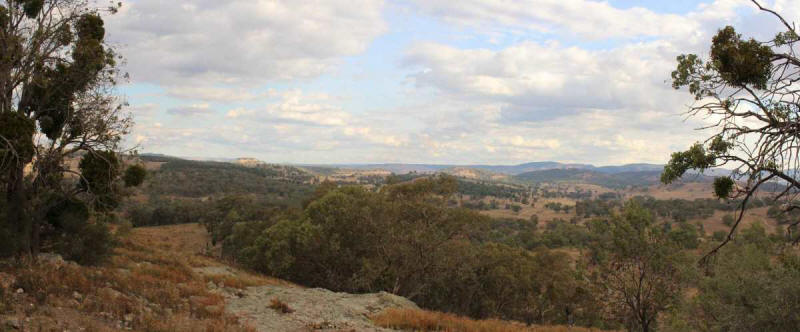 view over Old bara from picnic hill
Rob & Carol hosted a members get together at Old Bara over Easter. Old Bara is a 1100 acre property running 100% grass feed beef near Mudgee NSW which is owned by Richard & Sally Nagel. http://www.campinmudgee.com.au It is only in the past twelve months they have opened their doors to camping.
For the first few days we enjoyed warm sunny weather, but it wasn't long until a wintery blast from the south soon saw the temperature drop. The group lived up to its name as the drought breakers by delivering 38mm of much needed rain. The surrounding area was very dry with little rain over the long hot summer & we were pleased to see a tinge of green when we finally departed.
Members came from far a field as Canberra in the south & Moree to the north for the long weekend. The majority arrived on the Friday morning & set up their camper trailers for a relaxing weekend on the flat grassed area next to a dry creek bed. It is nice to meet members face to face who are attending their first weekend with the group & also pleasing to see how at ease they feel with everyone around the campfire. Of course the campfire is the social hub of the campsite & we had three or four going for such a large number of people & chilly evenings.
On Thursday morning Rob & Carol along with Karen and Greg & Louise headed to Munghorn Gap Nature Reserve which is a renowned bird watching area where 160 bird species have been recorded. Rob found he had left his camera in the camper trailer back at Old Bara. Funny enough when members checked in at the Old Bara Homestead on arrival our host Richard asked everyone to make sure they enquired about the bird photos Rob had taken.
On Saturday Rob & Carol drove to Hands on Rock & also The Drip via a few back roads. The bulldust of the previous day had now turned to mud after overnight rain. However the showery weather did not deter several vehicles accompanying them. Hands on Rock is a sandstone overhang with many ancient Aboriginal stenciled hand prints on the back wall. A one & half kilometre walk along the bank of the Goulburn River leads to The Drip, a towering sandstone cliff face dripping clear spring water. The walk is enchanting as you pass sandstone caves, pergoda formations & through an arch. After lunch in the carpark everyone went different directions back to camp. We chose to explore more back roads & ended up coming through various properties via public tracks back to camp.
Most departed on the Monday with the final few on Tuesday. While we sat around the campfire with only a couple of other campers throughout the rest of the property we had a visitor. A fox came within three metres of us. I stood up & walked to the car to get the camera & he followed me like a dog.
photos