Just back from our first adventure with our new camper trailer.
Having sold our Newsagency, our plan was to camp our way north to Cairns (from Rockhampton) and back, but demands from our accountant (in Cairns) to provide final figures, saw us drive straight through to Cairns, with a stop-over at a motel in Townsville.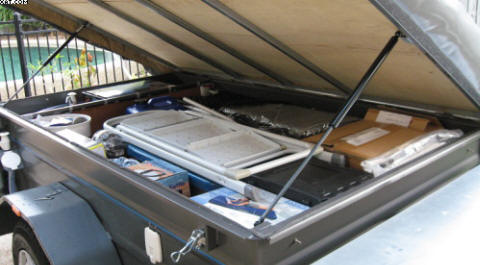 Packed and ready to go
We left Rockhampton under clear blue sunny skies, but the further North we went, the darker and cloudier the skies became. As a result, our first week was a wash-out, so we spent the time with friends at their home in Cairns. Rained on and off all week!
By weeks end, the rain subsided a little, so we took off to Lake Tinaroo on the Tableland. Spent 5 days/4 nights there taking in the surrounding attractions. Drizzled most days, especially mornings.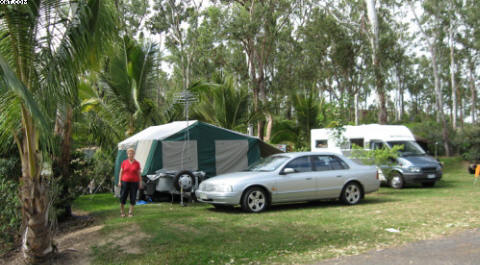 Lake Tinaroo Camp Site
From there, we went south to Rollingstone Beach (at the recommendation of a customer) and spent 4 days at the Big 4 Park there. First Class amenities and lovely facilities, but a rather boring place to stay. No shady spots . . . devoid of trees. The trees in the photo are nowhere near the small camp sites.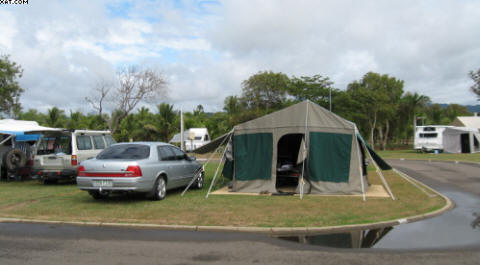 Wet, boring Rollingstone
Rained constantly for 3 days! The canvas leaked at the seams which was disappointing as we seasoned the canvas before we left Rocky.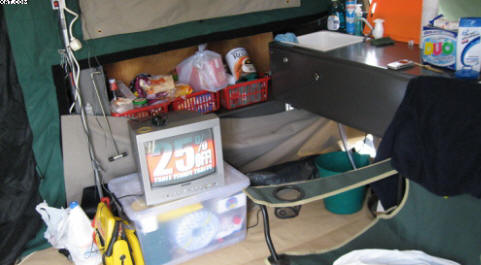 At least the Tele worked!
On the fourth day, the skies cleared and the sun came out in time to dry the canvas and pack up. With the clouds gone, temperatures fell dramatically . . . very UN-Northern!
From there, we back-tracked north to Mission Beach and spent 4 glorious sunny days there (but very cold nights!).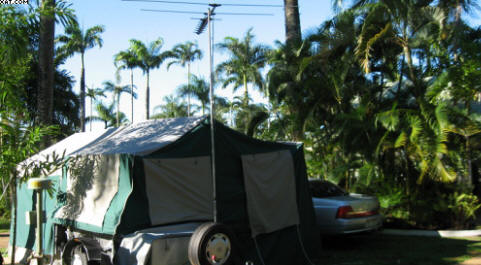 Mission Beach . . . the Jewel of the North
It's a beautiful part of the world and highly recommended, but unfortunately, the went, damp, cold conditions had me with a cold and Bev with a bronchial condition, so it was an early departure back to Rocky, after a night's stop-over in Bowen.
I'm sure it was on channel 9!
One of the few remaining Motel rooms in Bowen. Nicole Kidman, cast and crew have the town just about booked out until mid July!
So all in all, not a very pleasant start to our CT Adventures. As a matter of fact, if Bev has her way, (which she won't) our next trip will see us in a Caravan! Guess we'll just have to practice 'till we get it right!
David & Bev Price
Rockhampton