quietening the water pump
reducing the vibration noise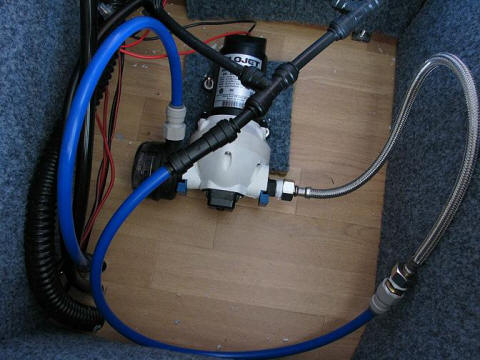 Water pump mounted on marine carpet, new water pipe (blue) and flexible pipe attached to outlet.
The water pump in our new Goldstream Crown Camper Trailer was very noisy, so I decided to try and lessen the noise level.

A reply to my post about noisy water pumps on the Australian CamperTrailers Group led to an article by Collyn Rivers, in which he suggested that mounting the pump on a piece of carpet and using very flexible pipe to connect the plumbing to the pump would do the trick.
I mounted the pump on a piece of marine carpet and re-routed the inlet pipe by using a length of water pipe (blue in the photo) and getting rid of the elbow joint that had been there. A length of flexible pipe complete with fittings (from the plumbing section in our local hardware store) was attached to the outlet and another length of water pipe led from this to the rest of the plumbing. Some offcuts of marine carpet to provide a little more sound insulation were positioned around the walls of the box that contains the pump.

The reduction in the noise level is rather amazing - when the tap is turned on now, the pump cannot be heard over the sound of the water splashing in the sink. A simple, cheap and very effective solution to the noisy pump.

thanks to Richard Graylin for sharing this idea
august 2009