ray & pauline's
Track Trailer Tvan Canning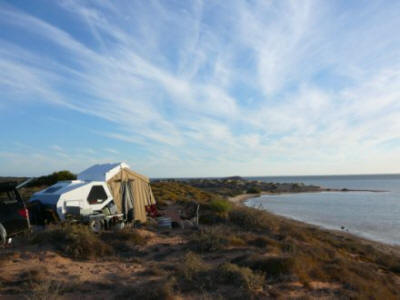 This is the start of the 2010 Easter weekend when we took our brand new Tvan Canning out for the very first time. We took it to Wellington Dam near Collie in WA and we copped four seasons in four days. It was a real test for us to see how weather proof the Tvan really was. Yep we had leaks! I was a little disappointed thinking that we had spent a great deal of money on a camper that leaked. Anyway, it didn't deter us from going out in it again.
We soon worked out how to set the tent up. We couldn't figure out why there weren't any instructions. After the weekend I found the manual under the cutlery draw which had step by step instructions on how to set everything up. I also found that by setting the tent section up correctly it wouldn't leak. Since then we have used the Tvan extensively and become very proficient with setting it up and packing it away. Pauline and I have been on a number of trips now and have become really fond it.
The Tvan combines well with the Triton. We have two auxiliary batteries in the back on the ute and one in the Tvan. Coupled with the 50Watt solar panel that comes standard with the Tvan Canning, we have another 100Watt portable panel. This gives us plenty of power to run two fridges, lights, water pumps and the use of the laptop on occasion.
We also carry a porta-loo and shower pump. These two items make camping so much enjoyable - especially for Pauline. She actually asks me if we can go camping these days.
The Tvan is great for sleeping in. There is a notable difference on cold nights inside the enclosed sleeping compartment compared to our previous conventional style camper, whereby we were sleeping under canvas. No more damp bedding with the Tvan!
While we get out and about most weekends and the odd 2-3 week adventure, I can't wait to spend some serious time travelling this fantastic country. Maybe we will with some well earned long service leave in a couple of years from now?
Anyway, hope to see some of the other members out there soon.
Ray and Pauline
thanks to Ray Cheek for sharing his thoughts with us
april 2011