Redarc BC-DC 1220
install and review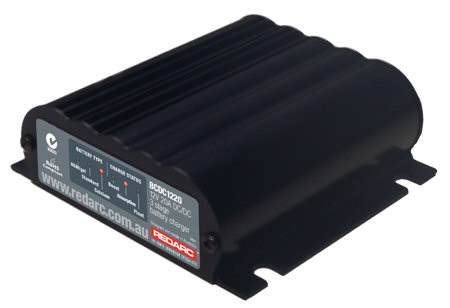 Redarc have just released a new DC-DC 3 stage 20 amp battery charger. (photos 1 & 2)
http://www.redarc.com.au/dc_battery_chargers_BCDC1220.htm

The great thing about this unit is it will accept anything from 9 - 32v DC input. That means you can charge the battery on the camper without having to worry about voltage drop or charge a 12volt battery from a 24v electrical system.
The unit will work with a choice of three battery types - AGM/Gel, Calcium Calcium or Lead acid and uses a three stage charging process to charge the second battery http://www.redarc.com.au/pdfs/Specs/BCDC1220InstructionSheet.pdf and its Australian designed and built with a two year warranty.
The compact size makes it great for the caravan or camper trailer or for mounting to a portable battery box. The unit is also sealed so can be mounted externally or used in a marine application. It also overcomes the problem with load sensing charging systems and regulated voltage control charging systems found on some of the more recently released vehicles.

I installed one of these units into our 2006 Diesel Prado to charge the Aux battery. The unit is fully sealed so it's fine to mount under the bonnet. I used the Piranha Battery tray from TJM to mount the second battery. (see Photo 3) I then installed the BCDC-1220 on the Driver's side inner guard, just above the ABS pump. (Photo 4,5&6)

I am using an 880CCA Calcium battery as my aux, so I was very keen to see how the unit performed charging the Calcium calcium battery.
On a recent camping trip I ran our Engel fridge for two days, and then went for a couple of hours drive. When I returned to camp the unit had reached the absorb charge stage. I estimate we possible used about 30 - 40 amp hours of power to run the fridge for the first couple of days (2.5 days). Another couple of days followed without driving. We then drove a couple of hours to home and the unit was in float mode when I lifted the bonnet at home.
I put the volt / amp meter on it, and grabbed a couple of shots of the input and output voltage and amps when running a "test" scenario at home. (Photos 7 -14)


| | | |
| --- | --- | --- |
| | | |
| Photo 1 Redarc BCDC 1220 unit | Photo 2 Redarc BCDC 1220 Unit | Photo 3 Piranha battery tray from TJM |
| | | |
| Photo 4 Installed on Prado 1 | Photo 5 Installed on Prado 2 | Photo 6 Test battery installed (not calcium battery) |
| | | |
| Photo 7 Main battery voltage (engine at idle, matches with photo 8) | Photo 8 Volts and amps to aux battery | Photo 9 Unit in Boost mode |
| | | |
| Photo 10 Main battery voltage (engine at idle, matches with photo 11) | Photo 11 Volts and amps to Aux battery | Photo 12 Main battery voltage (engine at idle, matches with photo 13) |
| | | |
| Photo 13 Volts and amps to Aux battery just prior to absorb mode | Photo 14 Unit in absorb mode | |
thanks to Rod Luhrs for sharing the install with us
November 2009