SE Qld
remembering neil
Friends of Neil attend a weekend at Clancy's Camping Area
Saturday 7th & Sunday 8th November 2015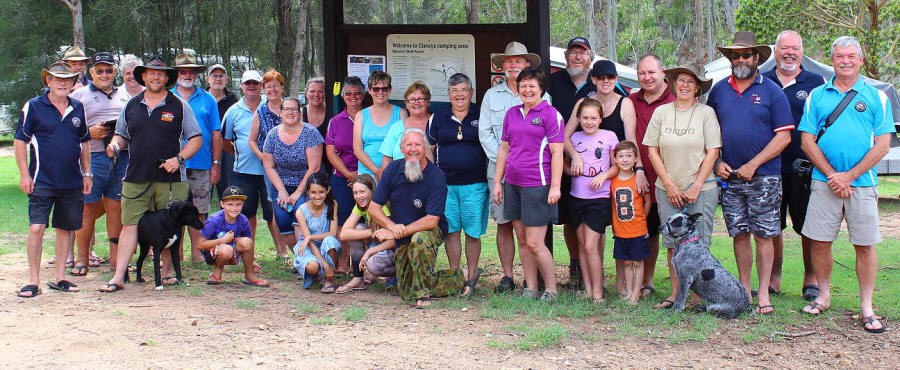 Neil's friends gather around the campfire to remember

A group camp was held to remember a very well-known friend, camping mate and colleague, Neil Morton, who passed away on 18 August 2015 in tragic circumstances. Many people could not attend his funeral as they were interstate, had prior commitments or work obligations. Neil's family suggested a gathering close to Neil's home in Linville which is in the Brisbane Valley approximately 100klms west of Brisbane, so they could meet with the camping fraternity which Neil had spoken so highly of.

The location of the camp was Clancys Campsite in Benarkin State Forest, about 30 klms from Linville, and where many of us had previously caught up with Neil in May 2015 on an earlier Australian CamperTrailers Group camp. It is a 14klm drive from the D'Aguilar Highway down a gravel forest road which is narrow, slippery and windy for the last couple of kilometres. You arrive in a beautiful valley to a smallish grassed campsite overlooking Emu Creek, has plenty of shade and is well looked after by the National Parks of Qld.

Early arrivals on Thursday had a hot day with scorching sun but it soon became apparent that an afternoon storm was brewing and finally started to rumble from about 3pm. Slowly other campers started to arrive and commented that the road was very slippery and the aroma of trailer hot trailer brakes confirmed the need to take it slow. There was an assortment of traditional soft floor camper trailers, hybrids and medium to large size caravans but all made it safely to the campsite.

Group co-owners Rob and Carol Sanderson (Newcastle) and Kevin Phillips (South of ACT) drove the long road to attend with approximately 35 Queensland folk. Neil's sister and brother in law, Heather and David Butler attended from early Saturday to late that evening as they were not set up for camping. Jamie Hazelden (Dynamic Solar Solutions, Jamie's Touring Solutions, and 'The Australian Bushman') also joined us for a night along with his son Tristan. Over the last 18 months Neil attended camps with his trusty dog 'Jedda', a black kelpie cross with a touch of dingo (maybe) thrown in for good measure. Fortunately 'Jedda' was able to be fostered by Jamie and his family so it was great to see Jedda jump from the truck and excitedly run up to everyone at the camp, closely followed by Tristan who he dragged behind him whilst on the lead.

A brand new rain gauge was unwrapped prior to the storm and a suitable location was found on a fencepost as another storm was bearing down from the North West. The thunder resumed again just after dark with a dazzling light show followed by a heavy downpour. A loud call was broadcast over the campground wondering how much rain had fallen in the previous hour, so the gauge was checked much to the amazement of the owner – it was filled with bright orange liquid. A raucous laughter was to be heard; it seemed many in the campsite were aware that 'liquid sunshine' had poured from the sky during the last storm.

Saturday morning the temperature was pleasantly crisp and the campground showed no sign of the nights deluge. The vast array of solar panels was quickly retrieved and set to follow the morning rays as best as they could, between the trees and ridge line across the creek. Some folk went for a walk to the see the rising creek and cool down; this made a wonderful playground for the few dogs on camp. Photographers were out catching the many species of birds and spotted a nesting kookaburra and a family of spangled drongos fighting for space in the same tree. Early morning walkers spotted deer near and a hare at the Emu Creek campsite which is a couple of kilometres down the track. Many frogs now had a place to lay their eggs in the puddles on the roadside and voiced their delight that the wet season had finally arrived. A green tree snake even showed itself for a brief viewing in the ceiling of the toilet block.

Instead of the usual morning tea a gathering took place in the early afternoon so all could gather and remember Neil. The group was welcomed by Kevin and Rob and Heather was introduced to everyone. We were told of Neil's younger days, his fondness for sailing, engineering, camping and touring. Group members chipped with their own memories of camping with Neil over the years.

Prior to the camp, Heather and David had asked if some members wished to participate in a competition to design/build and present a 'gadget' as this is something Neil did his whole life. We heard that Neil had the idea of purchasing a store bought item but it wasn't complete until it had been 'tinkered with' and improved, or better still, thrown to the side in disgust as 'he could build a better, faster, meaner, cheaper and move 12volt efficient item than that'. So in turn, some of the group presented a wonderful assortment of either a homemade item or an improved store bought item which was judged by Jamie;
• Matt – a kit containing an old 12volt water pump now able to be used to pump water from creek/jerry can into the CT water tanks, complete with hoses and attachments
• Lindsay – a trailer connecter tester
• John – a homemade portable fire-pit using a disused gas cylinder
• Greg – a electronic system on his dash to check the levelling of his caravan while he still had it hooked up – I think the patent name is called 'The Marriage Saver'
• Peter – a quick install timber chock for the jockey wheel
• Rick – remote bulb thermal drink heater
• Carol – an assortment of crocheted bags, pot holders, body scrub, coin purse and peter warmer; and
• Rob – solar powered tree/wall climbing thongs

Jamie declared the winner for ingenuity and simplicity to Rick for his thermal beverage heater. Rick stated he went to a lot of trouble to pull it from an old solar hot water system. The device is used with the bulb in the fire and the long copper tube reaches out of the fire with the end bent sitting in a 'cuppa' to heat it up or keep it warm. Heather then awarded a prize which contained a selection of photos that Neil had taken on a recent trip through Western Qld and Northern Territory which were presented in a beautiful frame.

Heather then offered to put on a morning tea at Neil's home in Linville for Sunday morning for anyone to come and see where he lived. So at 10am on Sunday morning about 20 of us arrived to see his beautiful home which bordered the Brisbane River, Heather was given a hand to move some plants to an outside area for ease of watering and David was shown how to open Neil's caravan and awning to air it out.

All up the group had a wonderful time, some campers remaining onsite for 5 days, others just a night or two but it was wonderful to catch up with friends whom we had not seen for a long time. We all had moments of reflection and reminisced of times spent with Neil, a mate, friend and comrade who was always willing to help a fellow camper, whether he knew them or only just met them, and had the ability to make you laugh and smile.

May you rest in peace Neil, you were taken from this life way too soon.
your hosts Matt & Wendy
photos from rob