Richard & Jane's
Sunset Auscamper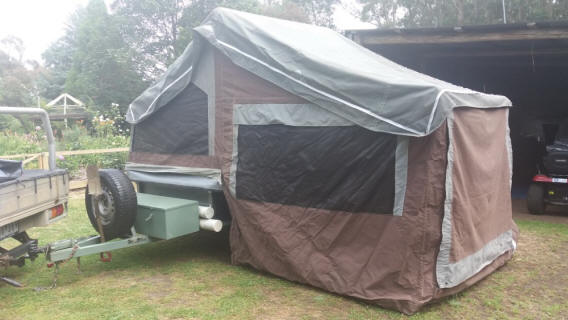 After selling off our old Dingo on-road camper four years ago and going back to a tent due to financial constraint, we recently acquired a Sunset Auscamper light-offroad camper. Although built in 2005 and third-owner, the body and canvas are in mint condition. Here and there the paint a tad faded, a few chips and a little surface rust. It had only seen maybe a half-dozen trips.
Even better, we paid well below the asking price, giving up the means to get it on the road with new wheel bearing and tyres, and kit out some equipment and tools. It has a built in kitchen and tool box and came with the awning and end walls, tarps, poles, ropes, jerry cans, gas bottles, some tools, cooking gear, shower, toilet and a fold-up table and chairs, although we have other gear which we are keeping or selling off. The floor tilts, but with no access from inside (for now). Its a sturdy-built camper.

We will trial it around Victoria before venturing further out.


Richard and Jane

january 2019