robert's 3way fridge
setup on gas


my old setup Old sedan (89 Ford LTD) and CUB Kamparoo. Although camper trailer has never leaked, I have a 4m x 4m tarp which not only goes right over the camper trailer but provides a roomy annexe roof. This is always erected, irrespective of the weather, to provide shade or rain cover. If it gets windy, possibly causing the fridge gas flame to go out, annexe "walls" are erected.

the problem I needed more versatility in camping. Existing 18lt 2 way Waeco thermocooler was limiting me to choice of camp spots and length of stay. I wanted to be able to attend more group get togethers, which were increasingly being held in locations without 240V power. I also wanted to wean myself off caravan parks.

the solution THE SOLUTION: After a lot of looking around I decided that for my particular setup and needs (and ultimately because of cost) a 3 way fridge would be the best choice. The main factor in my decision was that I could stay reasonably long periods in one spot on gas very cheaply without the battery worries of a 12v compressor fridge which I had initially considered.

the choices My first choice was the about to be released Waeco 40 litre version. After being told that it could be 6 months before it would become available and the price was not set, and a regulator & hose was not included, I gave it a miss. (At the time of writing, it appears in the new Waeco catalogue, but has still not become available in country Vic).



I then looked at the other cheap 3 ways: Jackeroo from Kmart , Gasmate from Aussie Disposals and the Repco unit – all 35lt and all identically priced at $399 from stores located here in country Victoria. Except for minor variations, all seemed to have their origins in the same Chinese factory. Kmart had none on display, and would not open a box for me to look at one. I have still not seen one out of its box. The Super Cheap fridge I was informed about was not 3 way (no gas). Since my purchase Aussie Disposals also sell the Companion brand at the same price (it looks quite different to all the others).



what I bought I decided on the Repco for 3 reasons - (1) IMHO there are many more Repco stores in many more places Australia wide for possible repairs (compared to the others), (2) their customer service as I experienced it whilst looking around was much better compared to the others, and (3) the free rechargeable 12v lantern was a real practical bonus.
raising the fridge To stabilise the fridge safely off the ground, and make it easier to access, I purchased a folding $79 camp kitchen work stand. It fits the fridge perfectly, and being silver also, looks like it was made for the Repco (see photo)

testing The need to leave a ventilation gap around the fridge whilst running on 12V (sitting on the car rear floor) meant I had less room to pack things. Also, despite the Repco having a turbo fan that switches on while on 12v, the fridge was not really that cold after a few hours driving, as it will only hold the temp it started at. As12 volt is the less efficient of the three powering options, I no longer bother to use it this way. (When I did run the fridge on 12V in the car for the 4 hour drive to the recent Carters Beach get together, no overheating in the cigarette lighter socket was noticed).
.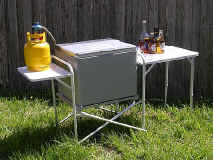 current method of use

I start it up once a month. Also, before each trip, I unplug the fridge and roll it upside down 'stirring up' the mixture inside – and leave it for 2 hours this way.

I run it on 240V AC for a minimum of 3 days before each trip. The night before leaving it is placed in the car with selected food. However, as I no longer run it on 12V (see above), I use an old Esky, buy a bag of ice, and place in it the most important items or perishables I'll need on arrival at campsite (e.g. meat & drinks).

After arriving at the campsite, I run the fridge on gas as soon as possible, having first set it on the kitchen workstation outside under the tarp (see photo). With an ambient temperature of 25C, the fridge takes about 3 hours to reach 4C on gas. My 2 kg gas bottle lasts 7 days (when on continuously).

Once the gas is alight the Repco fridge will operate at its maximum cooling capacity - there is no temperature regulation when operating on gas (I assume the other cheap 3 way fridges operate this way also). So playing with the temp control knob is pointless.

To avoid freezing food and drinks overnight, I have been advised to turn the fridge right off, or leave the lid half open. Must admit though - have not ended up with any frozen food yet, despite the Engel digital thermometer showing –5C some nights.

The fridge sits out about 20cm from the side of the camper trailer on the kitchen workstation. The rear vent area gets hot, so I have a fire blanket placed between the camper trailer and the fridge. I have also purchased a smoke alarm.

It's worthwhile getting a digital thermometer- very useful to have an accurate idea of the ambient and internal fridge temperatures at the campsite. My Engel Editherm cost $28.

I have heard of people adding polystyrene foam to the outside and then covering it further with clear film, but as I have been more than happy with the fridge's performance to date, I haven't bothered with this.

my criticisms of the repco

(1) Igniting the gas requires the skill of a contortionist, and a small mirror at the rear of the fridge. A real pain.
(2) On 24OV or 12V there is no way of knowing if the fridge is operating. No noise, no indicator light.
(3) There is a gas gauge, but it is not mentioned at all in the manual. Seems to have a mind of its own – I don't rely on it.
(4) Tiny little white plastic corner supports - can bend when fridge is full.

summary of my 3way fridge gas experiences
MAKE SURE AS LEVEL AS POSSIBLE (use a small spirit level)

KEEP IN SHADE

KEEP OUT OF THE WIND – check flame occasionally anyway

DON'T LET GET WET FROM RAIN

KEEP VENT AT TOP AND REAR CLEAR

USE IN A RAISED POSITION – AVOID ON GROUND, SAND OR GRASS

12volt DC WILL ONLY MAINTAIN TEMPERATURE THE FRIDGE WAS AT WHEN VEHICLE IS STARTED - FRIDGE WILL NOT GET COLDER ON THE ROAD

GAS HAS A NAKED FLAME – BEWARE OF FUEL OR JERRY CANS NEARBY

TEMPERATURE INSIDE IS DEPENDANT ON TEMP/HUMIDITY OUTSIDE

DON'T OPEN TOO MANY TIMES, OR FOR TOO LONG – GAS FRIDGES CAN'T RECOVER LIKE COMPRESSOR FRIDGES.

CARRY A SPARE GAS BOTTLE
consider getting a fire blanket and smoke detector (subject to your situation and set up).
Although I haven't used any other brand of 3 way fridge, based on my experiences so far I would highly recommend the Repco.


Robert Martin
october 2005
postscript march 2009 The Repco continued to serve me well in the years since I wrote the above article. In late 2008 I found age was really creeping up on me, and lifting the Repco in and out of the car boot was causing neck and back problems, and, as a solo camper, adding unnecessary setup time at a campsite. My camping needs had also changed quite a bit during 2008, so I sold the Repco. In its place, permanently in the car, I now use a 50 litre cooler that keeps ice for at least 4 days.

Despite the changeover, I would still highly recommend the Repco as a 3-way fridge running on gas.