Ron's Stoneguard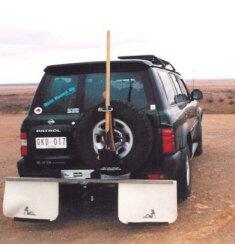 The stoneguard/mudflap I use when towing was once sold buy Cub Camper Trailers, but it is relatively simple to make up. The most expensive part is the truck mudflaps.
It is a piece of 25mm square tubing the width of the vehicle. In the centre is welded, to the bottom edge of the tubing, a piece of 10mm metal plate approximately 75mm square. This has a hole to accommodate the towball bolt offset about 40mm from the weld so the towball does not catch the 25mm tubing. The towball holds the thing to the gooseneck.
The truck mudflaps are held in place by a couple of pieces of 90-degree angle (steel/aluminium) the length of the mudflap that is screwed (3-4 places) through the top of the mudflap into the 25mm square tubing.
Note:-
1. Make sure that the mudflaps are 50 to 75 mm off the ground when you are hitched up (level) as they can scrape on the ground throwing up even more stones.
2. Vehicle depending, this Stoneguard may cover your bumper mounted tail/turn lights, so to be legal it needs to be removed when touring with the camper unhitched.
Thanks to Ron & Shirley