vehicle mounted solar panel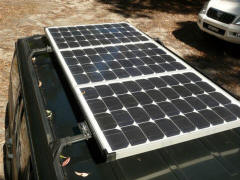 Three 60 watt solar panels joined together with aluminium angle are fitted to the Jeep roof racks.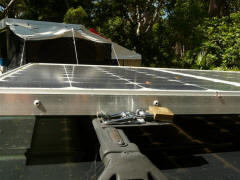 Quick release catches and padlocks mounted on four butt hinges allow tilting of the panel either way or complete removal from the vehicle.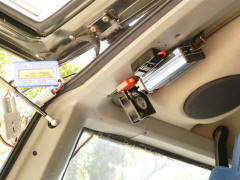 A GSL MPPT regulator with cooling fan, fuse and off-switch are mounted inside the wagon and are directly connected to the Anderson plug wiring to charge the Jeepís Optima battery and the trailer battery when it is connected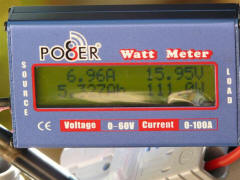 A Wattmeter supplied by Mandrakes Solar and fitted with Anderson plugs is used to monitor solar input and battery drain. The system easily supplies 40 amp hours or more per day when the summer sun shines and about 12 amp hours when overcast.



thanks to Ray Pridham for sharing this idea
february 2011