held on the weekend of Saturday 1st to Sunday 2nd of December 2007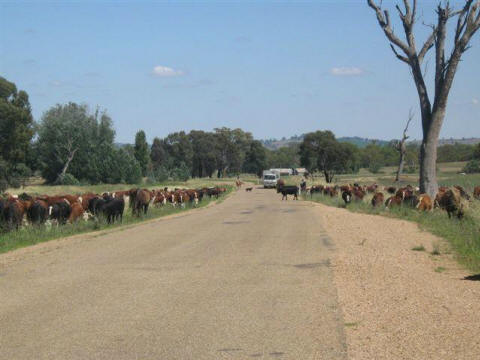 Drovers on Wagga - Tumbalong Road
A small group of CamperTrailers Group members held a get together from Friday 30th November until Sunday 2nd December. The location was at Sandy Beach on the Murrumbidgee River. Sandy Beach is on the outskirts of the small village of Wantabadgery which is between Gundagai and Wagga Wagga.
Tony and Chris were the first to arrive with their Oryx. They arrived just before lunchtime on Friday morning. They had just about finished setting up when Vicki and Alf arrived with their Camplet Concorde. Ron and Shirley arrived mid afternoon with their Goldstream RV. Dale and Bernadette with their son Nicholas arrived from Victoria late afternoon with their Aussie Swag. Dale and Bernadette were accompanied by their friends Mick and Lynda with their sons Alex, Liam and Ethan. Mick and Lynda and their children were in tents.
Friday afternoon was spent relaxing by the early arrivals and greeting those who arrived later. Friday evening was a quiet affair as the younger ones were tired after their long trip.
The Wagga Wagga 4WD club also had a get together on Saturday. There was plenty of room for them and others plus us to enjoy the great outdoors.
On Saturday morning Tony and Chris visited Junee. All the younger ones enjoyed the river and spent many hours playing in the water. This section of the river is fairly safe when the water levels are down. There is a small beach with shallow water which is suitable for children. Ron and Shirley enjoyed the peace outside of their van while watching the local birdlife. There were certainly plenty of different types of birds to watch.
Alf went for a paddle up the river in a kayak that he had bought with him. It was certainly a lot easier coming back than going up stream. The peace made up for the required exertion.
Vicki and Alf fished over the weekend with them catching two fish and losing one. Oh well the location made up for it. They also caught a feed of shrimps which they enjoyed.
We all watched with amusement when three young men and one young lady arrived to go boating. They had a small tinnie which all the boys piled into. After a false start, when the motor failed and they became hooked up on a fallen tree, they motored up the river. We were all taking bets on whether they would return or if the boat would sink. They did return and picked up the young lady before heading off again.
Beer o'clock was called at five o'clock on Saturday afternoon. We all enjoyed sitting around swapping yarns about places that we had visited. Mick and Lynda are looking at buying a CT, and were able to glean much valuable information from the rest of us. No matter where you camp or who with Happy Hour is always an enjoyable way to spend an hour or two.
After breakfast on Sunday Vicki and Alf, Dale and Bernadette plus Mick and Lynda packed up and headed home. Tony and Chris plus Ron and Shirley stayed until Monday before heading home.
As the organisers and hosts the highlight of the weekend came during our goodbyes. Lynda commented to me that their son Alex, who is normally a lounge lizard, had really enjoyed the location and would like to stay for an extra day or two. It was the icing on the cake.
written by Alf
photos