shane & nikki's
camper trailer
resurrecting a golden oldie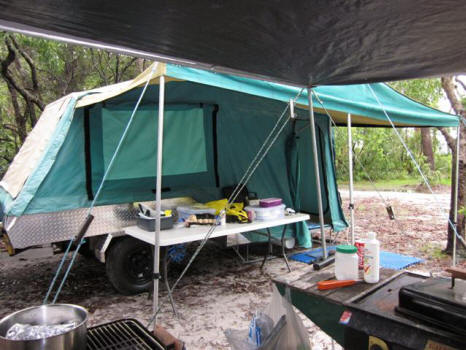 The want for a camper trailer really started during the CamperTrailers national meet at Condobolin. I had always thought of getting a camper but for the time I was quite happy with my tent. Then I attended the Condobolin meet and it was like being a little boy in a candy shop. The big question was which one? Confusion set in, soft floor, hard floor, the decision was not easy.

After Condobolin the search started. I was limited to a strict budget set by the soon to be wife Nikki. Apparently saving for a wedding is more important then buying a twenty grand camper trailer. I then took Nikki to the CamperTrailers Groupís weekend get together at Andrew Drynan Park and with the help of Rob, Lindsey and John I convinced Nikki that having a camper trailer was a good idea. Thanks guys!

When we got back home, the search continued. After looking at dozens and dozens on the net, I decided on a hard floor camper trailer. Jamie then found a beauty on Ebay, an older off road Aussie Swag which I acted on right away. I looked at the pictures in the ad closely and contacted the seller. Before I knew it I had pressed the buy it now link. The hardest part was then telling Nikki what I had done and that we had to go to Newcastle to pick it up. Oopps.

So we set off from the Sunshine Coast to pick it up. When we got there the trailer looked good, but what I had thought to be grey coloured paint on the trailer, actually turned out to be missing paint. Other then that it was in really good condition for four grand.

Once we were back home I looked into getting the camper painted and then came up with the idea of getting it sheeted in alloy checker plate. Believe it or not the cheaper option was to sheet it and to add to the look I had alloy mud guards made up. I've also given it a 12volt system with an AGM battery, LED lights, water pump and a few sockets here and there. The last thing was to change the hitch to an off road poly block coupling.

the canvas was in good condition but the body needed a bit of work

after the addition of some aluminium plate she looked like new
thanks to Shane for sharing his thoughts with us
january 2011