slide on campers
from top form alloy campers & canopies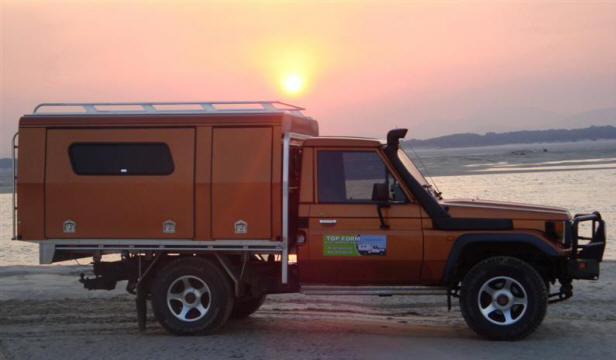 A new business has dawned on Islander Road in Hervey Bay. Bob Mitchell of Top Form Alloy Campers and Canopies set up shop in Hervey Bay in December to build all aluminium custom slide-on canopy's and campers for tray-back vehicles. The business started in general engineering in Bamaga, at the top end of Cape York, the northern most tip of Australia, in 1994.

Bob and his team decided that as well as repairing vehicles to withstand harsh Australian conditions, they would design and build their own campers and canopy's. "So we set them up with a double bed, storage and kitchen with awning and annexes," Bob said.

After taking the business to Rockhampton for five years Bob, his wife Evelyn, son Reon, his wife Lydia and their two sons made the move to beautiful Hervey Bay. "We found a need to build light, strong, water and dust proof campers that were comfortable and usable on and off the road leaving the vehicle free to tow a boat or caravan," Bob said.

"Our campers stand on four jacks while it's not being used. Getting it onto the tray is as easy as reversing under it, fixing it on and driving away."

Top Form has built campers for travellers to live out of, businesses to stow tools and community organisations to carry barbeque and store equipment in. "We talk to our clients and work out what they want to include, where they want to go and what they want to do. We throw a lot of ideas out there as well."

Bob Mitchell and the team that has been custom building campers and canopies for Australian conditions for 15 years.
More details at http://www.slideoncampers.com.au
june 2010