Snake Valley
Victorian members meet near Ballarat
held on Easter long weekend from Friday 21st March to Monday 24th March 2008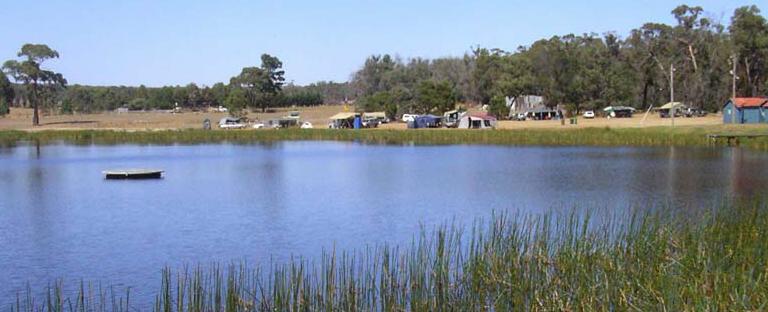 The Snake Valley Camp is approximately 30 km west of Ballarat or approximately 145 km NW of Melbourne. Snake Valley is in an historic gold mining area, and some old photos of the campsite are included in the album photolink further below. The name "Reptile Gulch" on the upcoming events web page was a pseudonym devised for a number of reasons. Being on private property, the owner wanted security and needed to know accurate numbers in order to avoid the possibility of last minute uncontrollable overcrowding.

I arrived Thursday lunchtime to find Tony and Chris from the ACT choosing a site on the large grassed camping area. As others arrived, there was a fairly wide choice between that area and right on the lake's edge. The facilities (hot showers and toilets) were located nearby behind the onsite cabins.

Almost half of the attendees had arrived by Thursday evening, with the rest turning up on Friday. All up there were 35 of us in all age groups (plus 2 dogs) staying in various camper trailers and tents. Australia Day was long gone, but it was good to see a wide selection of Australian flags flying. All of us were outdone by Doug and Jeannie's enormous Scottish Royal flag ("Lion Rampant") fluttering by the lake – signifying the residency at the campsite of the Queen's representative Tjindi (see attendees further below).

The weather was pretty good all round apart from a bit of occasional drizzle. On the Monday night there was a huge downpour, but no serious damage occurred. In general I think there were quite a few of us who succumbed to a bit of sunburn and/or windburn. Almost everyone seemed to have a solar panel up and running taking advantage of the free power available.

No formal activities were planned, but on every evening there was a gathering of some sort around a campfire or a BBQ. On Saturday night we had a short "Show and Tell" where anyone could show off various handiest items when going camping – looks like the "fruit box" will become a staple item. The little firelighter and the CB 18 sticker are also useful additions to one's camping accessories.

Sunday morning we had the popular and informative walkabout that has become something of a tradition at most get togethers. We visited every camper trailer where each owner gave a short talk about their set-up, warts and all, including the cost. Better than going to a camper show! Of particular interest was David & Sue's huge new Xtrail campertrailer, and Tony & Chris' unusual Oryx.

Some of the things I will personally remember will be the wafting aroma of bacon & eggs and fresh coffee, the Easter egg hunts, sipping champagne wine or beer as the sun went down, the kids playing various games, sleeping in until 8am, the variety of solar panels in use, chatting and laughing around the campfire, the prolific bird life, and the various lake activities – boating, fishing and swimming from the jetty and the pontoons.

Judging from the feedback, there were many other entertaining and memorable moments for all of us – the scone cook off, watching Doug and Jeannie pack up their Ultimate, the sheep next door being rounded up, Robert's amazing new type of collapsible wine bar annexe, sitting in the chapel out of the rain, Dale's 24 hour packup, and the various types of extraordinary half and full moons to be seen.

It was great to catch up with friends I had made from previous get togethers & also this time to meet new friends face to face who were previously only known to me from posts on the website. Special mention should go to Tony & Chris, and Dave and Rosie, for coming along from interstate.

Once again it is easy to realise just how much we all had in common & yet still have interests other than camper trailers. Everyone was friendly, and in particular the first timers and newer members, were made especially welcome. Many of us learnt about and saw some interesting things to try and buy, as we all seem to do at these get togethers.

The last of us left Tuesday morning by 12 noon.

Everyone who attended would probably agree that Snake Valley Camp, with its large flat open area for the children to play, and its lake, was a magnificent location for a get together. Nearby were numerous bush walks, the Devil's Kitchen (rock climbing) and Nimmon's Bridge (one of the largest remaining wooden trestle bridges in Australia). Thanks to everyone who attended for a great time, especially considering in some cases the long distances travelled. And thanks to property owner Andrew for smoothing out some of the hiccups.

I enjoyed your company enormously so I'm really looking forward to the next get together!
Robert

attendees
Tony & Chris, Oryx, Landrover (from ACT)
Dave & Rosie, Camp Ranger, AU Falcon (from SA)
Doug & Jeannie, and Liam (14), dog Tjindi, Ultimate, Mazda Bravo TD
David, Sue, and Alana (3), Xtrail, Volvo sedan – first get together
Jeff & Karen, William (10) & Andrew (8), Trak Shak, Toyota Prado
Nikki & Richard, and Madeleine (5.5 months), tent, Subaru Outback
Kevin & Kathleen, Josh (15), Daniel (13), Riley (11) and Courtney (4)
Dale, Karen, Em (16), Nick (13), & Jez (8), Dingo, Commodore wagon
Ian & Sandy, dog Nikki, still very new Dingo 2000, Nissan Patrol
Paul & Leanne, Southern Cross off road, Nissan Navarra
Lindsay & Sandra, Sundowner caravan, Nissan GQ Patrol
Robert (host), CUB Kamparoo, Ford LTD sedan