solar regulator
& panel upgrade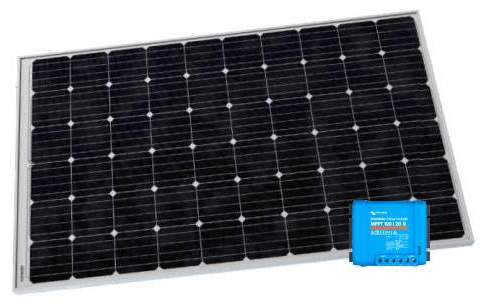 We started about eight years ago with 180 watts of solar consisting of three 60 watt panels wired in parallel on the Jeep roof and a GSL MPPT12-2 10 amp solar regulator charging a 55 amp hour 12 volt Optima battery. We only ran a Waeco 50DZ fridge and lights http://www.campertrailers.org/roof_panel.htm We now have two 66 amp hour 12volt Optima batteries and our needs have increased with more lighting, 12volt pumps plus computer, phone and camera battery charging. Sometimes we struggle to keep everything running for extended stays when camping in very shady places which results in decreased solar input.
Instead of spending $300 on a extra portable solar panel, I decided to spend $600 on a new 300 watt 32 volt Suntech glass solar panel and a Victron Smartsolar 100/20 regulator. The regulator is capable of handling the output of 100 volt panels and 20 amps with built-in bluetooth to enable monitoring via a Victron Connect smartphone app. A 'Smart Battery Sense' voltage and temperature sensor is connected to the battery under the bonnet which is designed to send accurate voltage and temperature information to the regulator via Bluetooth. I have turned the 180 watt of solar panels back into a 120 watt portable to use on shady sites, plus I now have a spare 60 watt solar panel.
the good news
The 300 watt solar panel bolts down perfectly on the roof rail cross bars of the Pajero and with the regulator it works well providing up to 20 amps into the batteries when needed. Even with the engine and alternator running if the batteries are low, it will produce 20 amps. When the vehicle is running with engine, aircon, fridge and all lights on the alternator output drops significantly when the panel is in full sun. This should increase the life of the alternator and also save some fuel.
The 100/20 regulator is highly configurable, all voltages, battery types and settings can be changed or defaults can be used. The Victron Connect app is very good, showing all the normal battery and panel specs and thirty days of charging history. The App works on Apple and Android phones. A sample app can downloaded to pc's from the Victron website but it can't connect to the real regulator, it is just a demo. My aim has been met giving us reliable power even when camping in shady sites for two weeks which has been the maximum test so far. In addition it can be left on 24/7 because it uses very little power when not in the sun and it charges the car and Tvan camper trailer batteries all at the same time when it is and it means I don't need DC to DC converters or isolators because the fridge switches itself off if the battery voltage should ever get too low.
the bad news
The regulator has load output terminals for the fridge etc, but it does not like our Waeco DZ50 fridge. When the fridge is starting up the regulator thinks it is a short circuit and switches it off. This problem has now been fixed by adding a $3.50 inrush current limiting NTC Thermistor in series with the fridge.
The Smart Battery Sense device uses bluetooth to send voltage and temperature from the battery to the regulator, very important when the battery is sitting in the hot engine bay and allows the regulator to reduce the charge rate at high temperatures. However it can't connect to the regulator at the back of the vehicle from the engine bay. There is no answer to this yet, so I have moved the sensor to just inside the cabin at the passengers footwell on extended leads so it reports correct voltage at least.
more good news
Victron Energy have a very helpful online community of users and staff who take suggestions and work to solve problems, such as fixing my fridge not starting problem. They advise a new battery sensor with a stronger Bluetooth transmitter will be coming out soon.
Now to do more camping and see if it works in the bush, so far so good.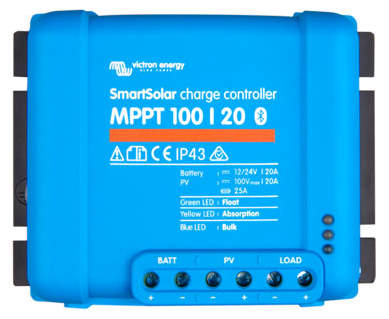 Victron SmartSolar MPPT Regulator - 100/20

Nominal system voltage
12V or 24V (auto select)
Rated charge current
20A
Maximum PV open circuit voltage
100V
Nominal PV power (input)

290W @ 12V

580W @ 24V

Max. PV short circuit current
20A
Charge voltage in absorption mode

14.4V @ 12V

28.8V @ 24V
Charge voltage in float mode

13.8V @ 12V

27.6V @ 24V
Temperature compensation

-16mV/°C @ 12V

-32mV/°C @ 24V
Self consumption
10mA
Protection class
IP43
Operating temperature range
-30 to +60°C
Dimensions (mm)
100(H) x 113(W) x 60(D)
Model
SmartSolar MPPT 100/20
Manufacturer
Victron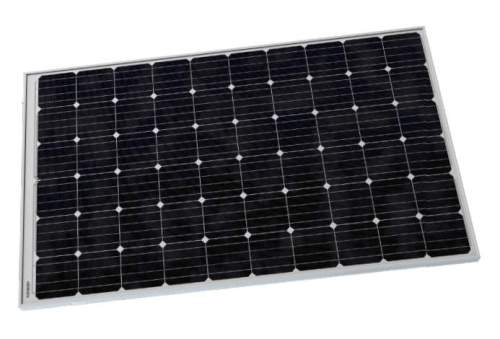 SunTech STP300S - 20 solar panel

Maximum Power at STC (Pmax)
300 W
Optimum Operating Voltage (Vmp) 3
31.9 V
Optimum Operating Current (Imp)
9.41 A
Open Circuit Voltage (Voc)
40.2 V
Short Circuit Current (Isc)
9.70 A
Module Efficiency
18.4%
Operating Module Temperature
-40 °C to +85 °C
Maximum System Voltage
1000 V DC (IEC)
Maximum Series Fuse Rating
20 A
Power Tolerance
0/+5 W
Solar Cell
Monocrystalline silicon 6 inches
No. of Cells
60 (6 × 10)
Dimensions
1640 × 992 × 35mm
Weight
18.2 kgs
Front Glass
3.2 mm tempered glass
Frame
Anodized aluminium alloy
new information
Victron have sent me upgraded replacement units at no charge which have completely solved my two problems. The fridge now runs happily off the LOAD output of the regulator and the Victron Connect App has been upgraded as well and now displays TREND graphs. The new Long Range Smart Battery Sense now works reliably from the engine bay to connect via Bluetooth to the regulator at the back of the vehicle so the regulator can adjust charge rates based on exact battery voltage and temperature.
BTW, in case you were wondering, I chose a glass solar panel over the new flexible panels because the warranty and robustness is better and the right size was available in an A grade panel to bolt directly to my roof rails without requiring a roof rack or other hardware.
thanks to Ray for sharing this information


may 2019