kitchen stove splashback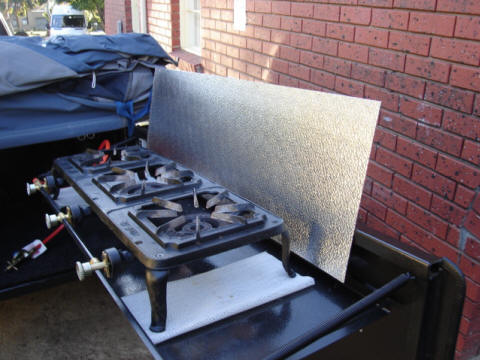 On our recent trip I felt the heat coming off our stove on the Outback Camper Trailer rear tailgate shelf. It was a bit too warm for the canvas, so I thought I'd make something to protect the canvas from the heat. I suppose you could call it a splash back for the camper trailer kitchen stove.
Materials used was a sheet of aluminium 900 x 300, 2 x 90 degree hinges, pop rivets, thin strips of aluminium for bracing and about one hour of my time. Total project cost no more than $22. I bought the majority of the items from Bunnings. The sheet of aluminium has a ripple effect for extra enjoyment.
After I had finished the splash back it blew over onto the stove in only a slight breeze. I then braced it using a thin piece of aluminium strip bent to shape secured by pop rivets.
No person was injured while putting this project together.
Thanks to Con for sharing this idea
| | | |
| --- | --- | --- |
| | | |
| finish product | the brace | the brace |
| | | |
| up into position | folded ready for storage | folded down |
december 2008