stone stranglers
rear stone defector
from Ewan McLeod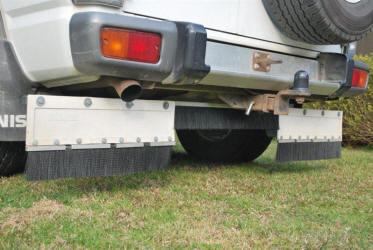 I made up and fitted the 'Stone Stranglers' to the rear of my GQ Patrol after much research and user comments on the pros and cons of various commercial units.

Initially I had fitted longer flaps without the spray suppression strips and found that stones hit the harder and stiffer materiel of the flaps which drove the stones down onto the road surface only to bounce up again under/behind the flap and clobber the trailer. I then sought a way to dampen the speed of the stones/gravel and absorb the kinetic energy and came up with the spray suppression strips fitted to a shorter flap. The results have been very satisfying with no stone chips appearing on the front and mudguards of and old trailer which I had painted in a light colour just to give evidence of stone impact. The centre curtain of 'whiskers' is to save the leading edge of the rear bumper which, after 300,000km, showed signs of stone damage. The segmented mounting strips give a degree of flexibility to the flaps that rigid extrusions would not.

My other criteria were exhaust pipe clearance and no interruption or obstruction of the exhaust gasses. Hence the forward mounting of the Stone Strangler assembly. Although easily removed I have come to leave then insitu. Driving down the Gold Coast Highway after some rain and without a trailer attached, a small car followed me at a reasonable distance and had no need to put the windscreen wipers on because the spray was also well suppressed, more so than had been expected.
thanks to Ewan for sharing this idea
september 2010