SW Queensland – July 2007
by Sharon & Neville
Well we are back from a great trip (the first big trip with the new Pioneer Camper towed by the diesel Pajero). We headed up the Silver City Highway into Broken Hill (from Melbourne). It was a big day the first day out! Next day we headed north into Tibooburra and spent the night at the Dead Horse Gully campground in the Sturt National park (1km out of Tibooburra). This was a great find as it was a lovely peaceful spot with sheltered gas bbq's provided (they only ask for donations to use them).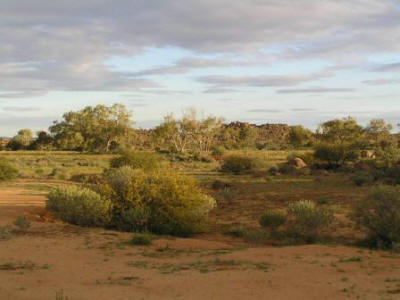 From there we decided to head up the Bore Track which turned out to be a good choice. It was a fun track and we ended up meeting friends from our old 4by club in Sydney on the way. We decided to camp with them for the night. Unfortunately, that group had a tendency to travel a bit faster than we normally like so this track has been put on the list as a definite must do again – but at a slower pace so we can enjoy the scenery more!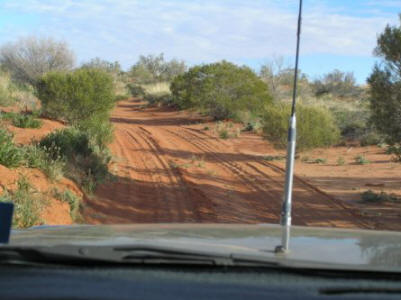 We called into Innamincka the next day to refuel before heading up the Cordillo Downs Road. We made it up to just past the Cordillo Downs Homestead before deciding we had had enough for the day and found a spot to camp along the creek bed.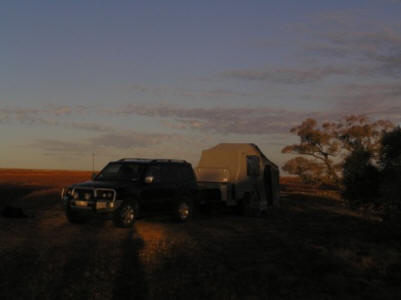 The first part of the track out of Innamincka was easy going with sandy stretches but the gibbers started after the Arrabury turnoff – it was very rocky but we took it easy and no problems were encountered with vehicle or trailer.
Next stop was Birdsville & a queue to check in at the caravan park (talk about back to reality!). We found a spot by the billabong where we had to dig a hole to sit one wheel & the floor supports in to level the trailer a bit.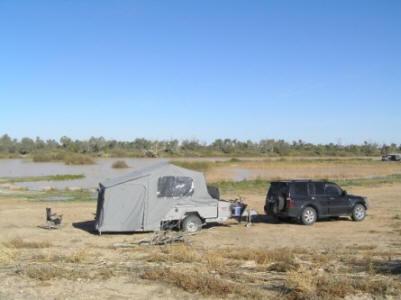 Dinner at the pub that night & a good catch up with fellow travelers we had met on the road so far. Next day, we took the car for a spin up Big Red to test it out – first go we were so close. Backed down the hill, lowered the pressures to about 17 and up & over we went - easy. Stopped at the top to watch some others attempt it – that was good fun! We then headed back into town & stopped in at the Bakery for lunch before heading for a tour around the Museum – talk about a fascinating & extensive collection.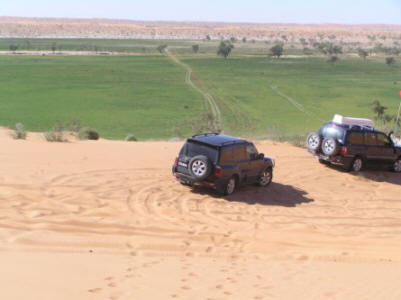 After 2 nights we headed north to Boulia for an overnighter before heading on towards Winton. We stayed at a sheep & cattle station 85km south of Winton (Carisbrooke Station). $5 per person per night and you get nice & tidy facilities, a communal fire pit with wood supplied and magnificent countryside all around you.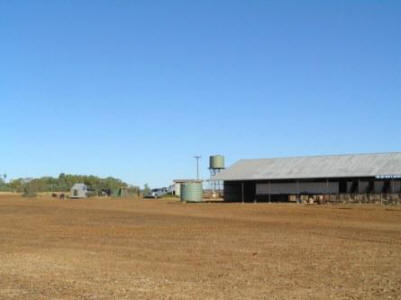 We drove down to Lark Quarry to look at the dinosaur footprints the next day and then out to the Old Cork ruins for lunch and a look around. Good dirt roads around here – just a few grids and floodways you have to look out for.
After being in the middle of nowhere for a week or so, it was off to civilization in Longreach for a couple of days to do the touristy things there before heading east to Carnarvon Gorge. We stayed at Takarakka Bush Resort – full facilities with big open camp kitchens with everything supplied. They have a communal camp fire so we enjoyed a few nights sitting around with the other fellow travelers (a lot of grey nomads) sharing tales of the walks covered during the day and other traveling experiences.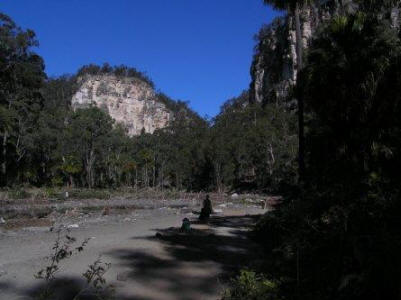 It was amazing to see the devastation from the floods which swept through the gorge in February this year. It just made it more interesting in my opinion – apparently you could only see the creek when you crossed it prior to the floods. The rangers have done a fantastic job of repairing the tracks for the many visitors to the gorge.
We didn't make it to the end of the big walk but did go as far as creek crossing 13 before turning back so we could go into all the side gorges on the way back. Still did about 16kms that day with our 7yo in tow – so not bad when you think how well he went. He only had to be bribed by an icecream for the last km or so. He also had no problems with the big climb up Boolimba Bluff on our last day.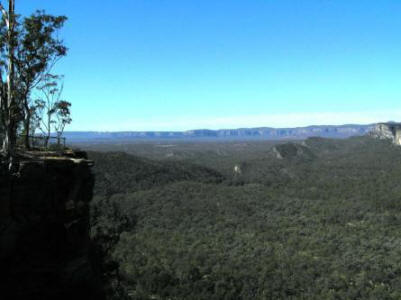 They say there are about 960 steps to tackle on this walk. From listening to the oldies you would think that it was tough walk. It was steep in places but it wasn't a solid climb straight up the bluff like we were imagining. (Well it sort of was but it was only for about 300m or so – it wasn't that bad!)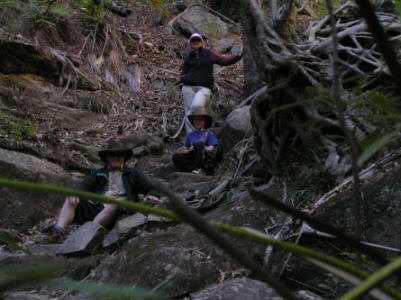 After Carnarvon it was off to Toowoomba to visit relatives, then south to Dubbo (to ride around the zoo!), and our next overnighter in Forbes.
Our final stop was beside the Murray River in Cobram in the regional reserve (we wanted a final camp fire before we go into hibernation for the rest of the winter).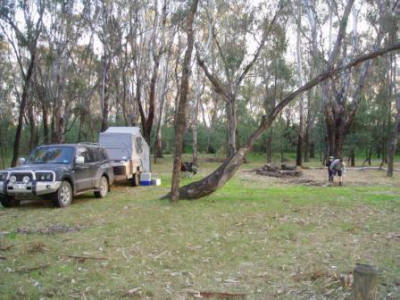 And our last glorious sunset!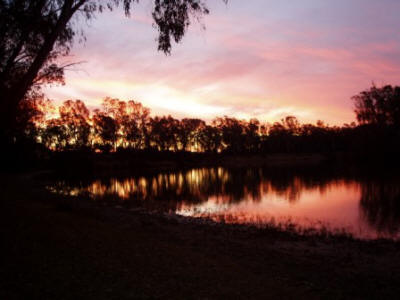 All in all, just over 6,000kms traveled in 23 days. The trailer was a breeze to tow. A small amount of dust got in in 2 places but we tightened up the locks and all was dust-free from there on. It was great for the quick overnighter set up and we only pulled out the annexe and our son's tent when we stopped at Carnarvon.
We had put carpet on the floor before we left and this made it warmer on the colder nights (plus we utilized our little fan heater that we made sure was plugged in whenever we had power!).
We've decided that this trip was only a recce as we have to go back to the areas we visited. There was some fantastic country and we missed out on so much that we would have liked to have seen but were unable to visit. Oh well, there is always next time. Now to decide on where to go for the next trip!