what's techni ice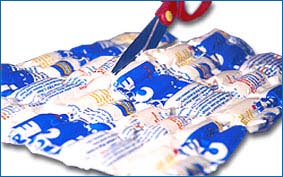 Designed in Australia, Techni Ice has become a big hit with outdoor enthusiasts. Techni Ice Australia has expanded their product line of Ice by making variations of this unique package and also produce cooler boxes and bags. Today you can find Techni Ice throughout the world.
Techni Ice 4ply comprises of 2 non-woven textile layers, which encapsulate a specially formulated cross-linked polyacrylate polyalcohol co-polymer refrigerant combined with a post treated trade secret formula. An additional 2 heavy duty plastic layers, containing a one-way microperforation technology are bonded to the textile layers. This ensures that this new model can withstand the harshest of operational climates with performance that can only be described as revolutionary.
Techni Ice utilises a cross-linked polyacrylate polymer that can be frozen right down to minus 190C (that's more than twice as cold as dry ice!).Techni Ice is often frozen in blast freezers to minus 80C when used in dry ice applications.
Techni Ice can be used hot, cold or frozen and can not only keep your food and drinks icy cold for days on end in cooler but is also very effective at reducing battery consumption when placed in 12 volt fridge/freezers due to its eutectic qualities,which minimise thermostat activity.
Techni Ice can be used by placing one or two sheets in a 12V fridge/freezer to effectively reduce battery consumption and increase general efficiency. When Techni Ice is used in this manner it can also be left in the fridge/freezer whilst the power is turned off overnight to further reduce battery consumption whilst still maintaining basic refrigeration. Techni Ice sheets can be placed in a separate ice box for use when away from the vehicle or boat, etc.
Cleaning: Techni Ice is fully washable and nothing permanently adheres to the plastic outer plies. We found it extremely easy to wash off dirt, food stains, and fish slim and blood. Most of the time just blast the sheets with a garden hose in the yard will do the job, or in a kitchen sink, use a sponge will make cleaning quick and easy.
Storage: When not in use, the Techni Ice can be stored at room temperature or in the freezer. If you store the sheets in your kitchen cabinet or such, put them in a plastic bag but leave it open. When you need the Ice sheets, check to see if they need to be hydrated, then either heat or freeze.
Our Experience: We use Techni Ice in a 12v Waeco fridge as a 'Cold Bank'. In our experience it achieves all the claims made for it as a domestic use product. How I'd get down to even minus 80 degrees C is completely beyond me so itís the home freezer only to chill 'em down.
The information above was selected from information and reviews on the Techni Ice website. The compiler of this article has absolutely no connection with the manufacturers or retailers of the product other than as a satisfied customer.
Thanks to Tony Stone for his review.