Carl and Carla's Trackabout Safari Modifications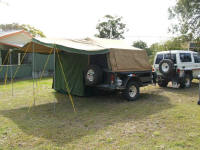 We thought we would send some pictures of our new modifications to our Camper Trailer. As you can see our trailer doesn't look like a standard Trackabout trailer because when we ordered our trailer we wanted the wheels to be the same as the Cruiser (33x12.5). Carl had to fabricate the guards so the wheel and tyres would fit.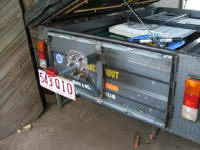 Our new modifications consisted of moving the spare wheel to the tailgate as shown in the picture. Carl had to strengthen the tailgate to hold the weight. Our next modification has been to add a shelf into our kitchen box to enable us to keep things tidy. Also added, was an extra leg and shelf to the table that attaches to the kitchen box (kitchen box lid). It gives us extra space to hold pots etc when camped, and the extra leg makes the bench sturdy.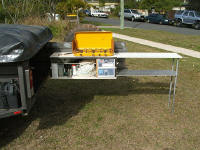 We have also added a 12 volt pump to our water tank, added another battery to the trailer. Our canvas Kitchen wall is being modified to accommodate for the spare wheel being on the tailgate as well as the black torneau cover to allow an innerspring mattress to be used in the camper.
Thanks to Carl & Carla for this information