compact 12volt energy efficient fluorescent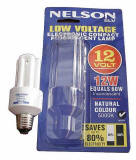 The Nelson MELV12BC compact fluro globe makes a great light around camp, not only giving off a bright white light, but saving on battery power as well. This globe is avaliable from Bunnings Warehouse for around $28.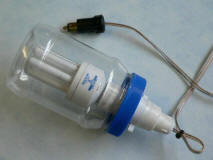 To avoid breakages I have inserted the light into a PET type (plastic) nut jar into which I have hole-sawed a 29mm hole in the centre of the lid. This fits a HPM Cat310 switched socket perfectly. I have zip-tied a small loop into the Dick Smith Cat 2013 OFC speaker cable to enable easy hanging off a hook.
On previous lights that I made, I used DSE Cat 2016 but have since found that the 2013 will carry the 1 Amp load without problem. Both of these cables are multi stranded OFC copper and VERY flexible. My lights all have 5 metre long leads. For longer leads, maybe the heavier cable would be a good idea.
We used to remove the PET section when using the lights at first, but have found that the globes run cool enough, so leave them on now. If heat was a problem, a few 6mm holes drilled in the lid would allow it to escape.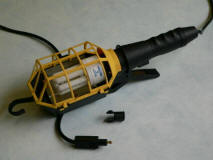 I have built a number of these lights, but in recent times came upon the ARLEC WL17 Heavy Duty Worklight. These are sold as a 240 volt trouble/worklight, but with a single safety modification, can become a very cost effective 12 volt camp light. They are switched, have a reflector, a multi position hook and also a decent spring loaded jaw to clamp onto a pole or canvas.
The ARLEC unit is fitted with an Edison Screw fitting – meaning that for 12volt use the 'ES' version of the Nelson ELV globe must be used. I bought my ARLEC from Bunnings for less than $10. The cable fitted to the ARLEC unit was long enough for our application and I simply cut the 3 pin 240volt plug off it & replaced it with a Hella 4951 2 Pole Universal Cigarette Lighter / DIN Plug. These can be used in a normal cigarette lighter or a Hella type DIN socket. HELLA WEBSITE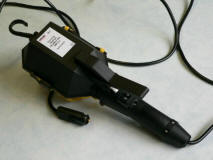 With SAFETY as a prime issue it is imperative that anyone contemplating using one of these ARLEC units on 12volt equipment cut and remove the 240volt 3 pin plug. With the 3 pin plug removed there is no chance of someone accidentally plugging it into the household supply! Cost wise the ARLEC from Bunnings is much cheaper than what I paid for the switched HPM socket.
I should add that apart from being a very good camplight, the inbuilt radio suppression means that HF and AM radio warbling and screeching interference will be a thing of the past.
Thanks to Tuco for this information.
more ideas
Here are two variations of the 12 volt energy saving light from Kevin & Karen. On the left we see a bedhead reading light which can be easily mounted to a tentpole with the gator clip, on the right a desk light. Both lights have had the 3pin plug removed & a cigarette plug wired to avoid accidental incursion into 240 volt power.
thanks to Kevin Phillips