twin inflatable
jockey wheel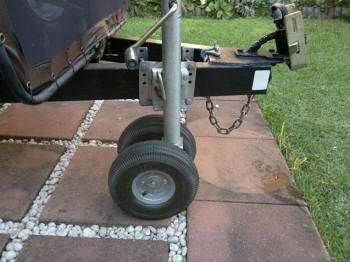 Our camper trailer came with a standard 120mm solid jockey wheel which is very useless on sand or loose dirt with a fully loaded trailer as it tends to sink in the ground. I wanted to buy one of those inflatable big jockey wheels which are 250mm and wide footprint, perfect for that kind of terrain, but at $130 a pop was a bit expensive so I decided to make my own…even better a twin jockey wheel, like the ones you see in heavy caravans.
When I tried to buy a pair of wheels they were $48 each, but at the same shop they had a trolley with identical wheels for only $25…a no brainer!!! I bought the trolley for $25, a 180mm M16 galvanised bolt and some washers for $8. A total of $33. A lot less than the price of one wheel.
First I removed the bolt holding the existing wheel and cut a piece of gal pipe the same length as the existing gap to give the new setup some strength by not allowing the vertical supports to bend with lateral forces. I you have a welder you could weld the pipe to the supports which will give you the ultimate strength. I do not own one, so no welding on this prototype.
I drilled a 2mm hole at the end of the bolt to allow a retaining pin to hold the new axle in place. You could also use the existing trolley axle and just trim it down.
Inserted the new wheel and bolt through the spacer and put another wheel on the other side, a washer and finishing up with a retainer pin to secure the assembly (as a matter of fact, I did put two pins at 90 degrees angle, an overkill but you can never be too cautious!!!)
And…Presto!!!
As there are two wheels with a maximum load of 180kg each, they do not even feel the weight of the trailer…
thanks to Ivan Munoz for sharing this idea
june 2012