NSW
upper colo weekend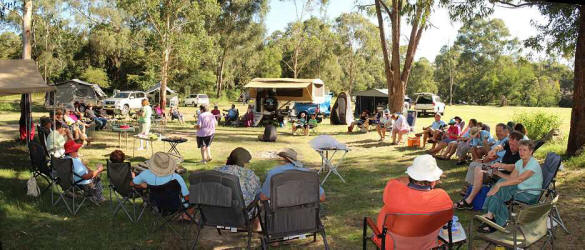 Saturday 7th to Sunday 8th March, 2015
Rob & Carol hosted their seventh Australian CamperTrailers Group weekend get together at the Upper Colo Reserve over the weekend of Saturday 7th & Sunday 8th of March attracting over 50 members with various camping accommodation from camper trailers, tents, slide-ons, windup & popup campers from as far afield as Dubbo, Orange, Wollongong & Newcastle.
The Upper Colo Reserve is situated off the Putty Road north of Richmond along the banks on the Upper Colo River amongst the Hawkesbury sandstone valleys. The river is shallow with deeper channels to waist height where the current flows. The eroding sandstone makes the sandy banks look like an ocean beach. You can see where all that sand comes from
There are flushing toilets & cold showers as well as a large tank providing drinking water. You need to book online with the Hawkesbury Council or it is double the price if you pay the caretaker onsite.
Because of the strict 150 persons limit allowed on the reserve at any one time, the reserve was booked out a month before so several members missed out on attending. An overflow camp was arranged at the nearby property of Bielany for 15 members.
We were treated to warm & sunny days of around 30 degrees with some taking a swim the Colo River. Luckily an afternoon thunderstorm managed to slip around the valley.
The majority of the members arrived on Friday & by the evening camper trailers where spread throughout the reserve. Members soon rekindled friendships forged around the campfires during previous weekends & the national meets. Members attending their first weekend get together quickly settled into the evening groups.
The headstones dating back to the early 1800's in the Upper Colo cemetery at the Upper Colo St Andrews Church are of interest showing the hardships that people in the valley endured.
Everyone gathered for a communal happy hour on Saturday afternoon with plenty of laughter around the many campfires on Saturday night.

Most headed off Sunday afternoon for Monday morning work commitments. It was a very different campsite that night with only a few remaining.
Rob & Carol
photos