vehicle awnings
a selection guide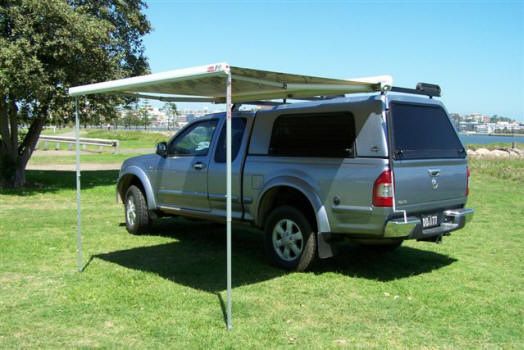 Vehicle awnings have become very popular over the last few years and there are plenty on the Australian market to tempt you. They are a really good addition to your camping setup, are easy to erect and give you shelter from the sun and rain in the bush. A vehicle awning is a perfect shelter for a quick lunch stop or for an extended stay. But, as with most things today, not all awnings are created equal and the old saying "you get what you pay for" applies here too.
There are two main styles of awning available, the "cassette" style used mainly on caravans and campervans and the "bag" style awning found on many 4wheel drives today. The "cassette" awnings tend to be more expensive and require stronger mounting points whereas the "bag" awnings are lighter and can be easily mounted to roof bars and lighter roof racks.
bag awnings Within the bag awning range there are a number of options to choose from.
* Basic: side & rear awnings with two loose poles and guy ropes.
*Mid Spec: side and rear awnings that are a little more sophisticated with side bracing poles to tension the canvas and vertical telescoping poles fixed to an integrated end tube. These are largely self contained and all the bits fit inside the awning bag.
*Deluxe: models with sophisticated aluminium profiles that add to the strength and allow for sturdy enclosure options. Some even have custom fittings that negate the need for guy ropes.
wing awnings Wing awnings: these awnings give you the best of both worlds, side and rear cover all in one. These "wing" style awnings are very versatile but take a little longer to set up and pull down.
main components There are four main components to these awnings – the canvas, the pole system, the mounting system and the bag.
canvas In my opinion, the canvas is the most important part of an awning as it provides the shade from the sun and shelter from the rain. The lower cost awnings tend to use thinner, rip-stop style canvas that offer inadequate shading and insulation from the sun on a hot day (particularly in our northern climate). Do the test, look up from underneath the awning at the sun – if you can see through it the shade and durability factor is likely to be less than satisfactory. Compare it to another model using higher grade canvas – you will see the difference. Look for at least 11oz, Australian-made, Dyna-proofed canvas that is both rot and mildew resistant.
poles Check how good the telescoping poles are - tighten up the twist lock mechanism and then put some weight on them (hang off them unless you weigh more than 90 kg's). If they compress under your weight, they probably require constant adjustment in windy conditions – this can become tiresome and annoying after a while.
Check if the inner pole glides smoothly and noiselessly inside the outer - undo the lock and slide the inside pole up and down a few times and if it's noisy or rough chances are the mechanism is of poor quality and may disappoint in the field. Make sure the aluminium poles are anodised. Raw aluminium discolours with oxidisation, leaves black marks on your canvas and hands and becomes unsightly over time.
mounting system Examine the plastic fittings on the end of the poles – it's harder to judge the quality of these but give them a good flexing to see if they are flexible or brittle. If you are afraid of breaking something, ask the salesman to do the flex test. If they have some give in them, it's likely that good quality plastics have been used on the awning.
Make sure all metal fittings are stainless steel and included in the package and purchase price – are the mounting brackets included? Zinc plated fittings will corrode long before stainless steel which is why the marine sector will only use stainless fittings.
Ask if there are spare parts available in the event of something breaking – if not, you may have to throw that broken awning away because there are no parts available for repair. Ask for a price and availability on a replacement pole – if you can't get it straight away at a reasonable price look at other options.
awning bag The awning bag is what protects your investment from external damage when not in use – look for a good, strong vinyl bag with an enclosed zip to minimise water ingress.
conclusion Is it Australian made? Locally made products tend to cost more but chances are the overall quality will be better than on an imported awning and you will be doing your bit to keep manufacturing alive in Australia. Local manufacturers also offer a greater range and will often make the awning to your specifications - with imports, you get what is on offer and customisation is generally not an option. After sales support and parts availability is generally also better with locally manufactured awnings
We are all constrained by budget to some degree but in my experience the better quality products tend to last a long time if maintained properly and paying a bit more up front gives you more comfort that the product will perform in our harsh environment. I remember a few times where my time in the bush was cut short by equipment failure caused by inferior products.

thanks to Franz G. Haidinger

april 2013