vista rv expedition
coongie lakes & birdsville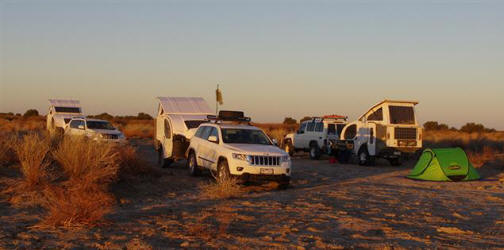 Goyders Lagoon

I noticed on the track condition websites that the Old Strzelecki Track, Coongie Lakes Track, Walkers Crossing Track and the Inside Birdsville Track were all open after a few years of closures. Hmmmm..... Why not do a trip joining them all up together???

So we did!

The party members were:

Alan - Crossover Classic and white Prado ( is there any other colour? ) from Tassie
Russ and Sue - Crossover XL and white Troopy from down the Peninsular
Ray and Jan - Adventure trayback caper on a red Colorado - how did a red car get on this trip???
Numb Thumbs (me) and my son Matt - Crossover Classic and white Jeep Grand Cherokee

As I was pumping up the tyres to take the extra load, Matt asked me why the car was full of gas. I looked up to see that the car was full of SMOKE!!!! Something had caused a short in the wires powering the pump and the insulation plastic had caught on fire. I grabbed the fire extinguisher and gave it a blast of powder. That killed the fire.

Have you ever set off a dry powder fire extinguisher in a car? Messy, isn't it? This incident caused a few delays in setting off, needless to say. I had to remove the tyre pump and pressure tank, vacuum out the car and then totally repack. I also needed to buy a new compressor in mildura as I don't like to travel without one. It also meant I left out a few - apparently not crucial - things.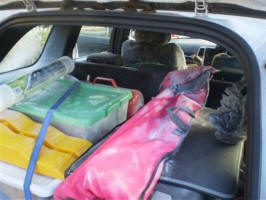 The source of the fire, I think!
Matt and I met up with Alan on the Calder Highway just out of Melbourne. Russ and Sue caught up with us a while later at the lunch stop in Charleton. Ray and Jan were already in Broken Hill waiting for us.

First night was at Hattah Lakes Campground, just north of Ouyen. This delightful campground is in the Hattah-Kulkyne NP and is a great spot. After sorting out the confusing pay rates at the honesty box - in our favour - we settled in for the night. There was some mutinous muttering about the start time, but I soon sorted that out!

After a reasonably early start and a visit by a flock of hungry and friendly Apostle Birds, we continued on to Broken Hill to fuel up and buy the last minute groceries and fruit and vegies. We met Ray and Jan on the edge of town and they led the convoy to the shops and servos. Fortunately they had been in town a few days so could guide us easily to what was needed.

We continued north along the Silver City Highway for a few hours until deciding upon a bush campsite next to a treed creek line. A roaring fire set the tone of the evening with people all getting to know each other.

Next morning we continued north to Tibooburra with a side trip out to Milparinka and Poole's Grave and Mount Poole.

Tibooburra was a fuel top up spot before heading out to Fort Grey Campground for the night. The Sturt National Park is full of kangaroos and has lots of emus so we had to drive carefully to avoid the more suicidal ones. Fort Gray, which is in the park, is a good campsite, but a bit exposed to the wind. There are free gas BBQ's and hot plates - so Matt and I BBQ'd a couple of steaks - and good long drops. The doors and frames of the toilets are built from steel, so take a bit of foam to pad the doors to stop the midnight visitors waking everyone in the campsite as the door slams!

Next morning - off to Cameron Corner!

We took the obligatory group photos at the Border Marker:
We headed off west along the beloved "Woop-di-Dos" to Merty Merty. The track west from Cameron Corner runs across the dunes so you are driving over a clay capped dune every few hundred metres. Lots of fun, as long as everyone keeps well to the left...

We turned north along the Old Strzelecki Track at Merty Merty station and soon pulled over to gather firewood. Next came a lunch stop.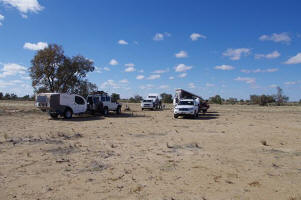 lunch stop on the old strzelecki track

We reached Innamincka and decided to head on towards Coongie Lakes. The fuel in Innamincka was $2.10 a litre so I was glad of my auxiliary tank. Unfortunately, Scrubby Creek campground was closed, but we found a great little spot on the banks of the Cooper at Kurdriemitchie Outstation, just on the border of the Coongie Lakes Reserve:
| | |
| --- | --- |
| | |
| | |
| | |
| early morning reflections on the cooper | whistling kite |
| | |
| cruising pelicans | large flock of perched wood swallows |

We decided to do a day trip to Coongie Lakes from the campsite as fires are prohibited in the reserve.

Next morning we set off for Coongie Lakes. We started out by heading to the furthest north car park and set off on foot to find the Mouth of the North Branch of the Cooper.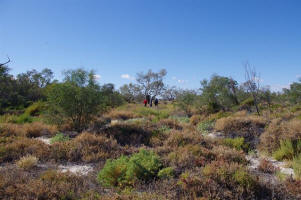 A solid wall of impenetrable lignum scrub stopped us from achieving our goal. We felt for Burke and Wills - so close, and yet, so far! On the return, two rangers met us, coming from the car park. They had noticed some of our cars were not displaying permits... They walked back to the cars with us and checked all permits thoroughly... So, yes, they DO check your permits, thoroughly!

We then headed off to the track around the lake shore and checked out all the tracks, finding a great spot for lunch with great views across the lake and a swimming beach...
Matt and Alan were the brave souls who took one for the team and went for a swim: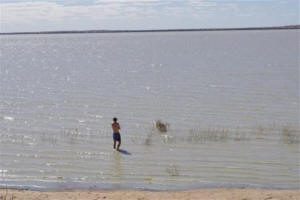 A couple of vehicles drove past and eyed off our spot enviously. I was overcome with bonhomie and told them we were only having lunch and they were welcome to it as a campsite. They were very happy!

We drove to the end of the track and took a few photos before returning to our campsite.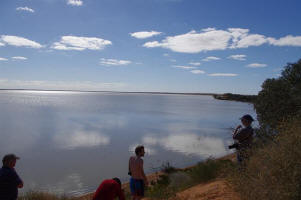 Back at camp we had another wonderful fire on the banks of the Cooper.

Next morning, we packed up camp and headed back to Innamincka. Ray and Jan decided to leave us here for a while as they wanted to go straight to the Dig Tree and then Haddon Corner and on to Birdsville for the Big Red concert. They were heading north after Birdsville so it made sense to do it that way.

The three Crossovers headed out to Cullyamurra Waterhole for the night. We found a great little spot with our own private long drop. We headed up to the Choke car park and had a wander around before returning to our campsite.

A roast lamb dinner ensued, if a little later than planned.... The evening peace was shattered by a loud generator at the next campsite which ran from dark until well after 10:00pm. A visit from Russ and Matt encouraged them to turn it off.

Next morning we headed back in to Innamincka with a stop off at the tip to dump rubbish and watch the 30 odd dingos and a huge flock of kites and ravens.

We headed out of town on the 15 Mile Track towards Walker's Crossing. We stopped in at all the side tracks - Policeman's Beach (no policemen), Ski Beach (neither snow nor water skiers), Will's Grave, King's Memorial, Minke Waterhole (strangely, no whales sighted), etc..

The track out to Walker's Crossing is interesting. The oil and gas companies are very busy out that way, as they are all over the area, and have been making some very smooth, wide, clay capped roads. They try hard to discourage you from using them with things like signs pointing down rough sandy wheel ruts saying Birdsville or Walker's Crossing and no signs on their roads. We decided to use their roads!

We came to a major camp and oil/gas installation and were chased by a 70 series with flashing yellow lights. He pointed out we had missed a turn off - there were a heap of signs on the post to different well heads, the Walkers Crossing one hidden in among them all.

We got to Walker's Crossing to find that the nice shady lunch/camping area was roped off as the bridge was out of action. We had lunch in a delightful dusty car park.

We headed off north again, driving across the Sturt's Stony Desert and reached the Birdsville Track without incident.

We turned away from Birdsville along the track for about 60 kms to the start of the Inside Birdsville Track - which was not signposted... Another point to GPSes!

It was getting late by this time so we were eagerly looking for a camp site. The bottom end of the Inside Track is where it crosses Goyder's Lagoon, wide, flat featureless area with no shortage of metre high lignum.

There are NO nice campsites along here... We managed to find a patch of flat (no problem out here!), relatively clear ground and set up camp about 20 metres off the track. Not a problem as no vehicles passed.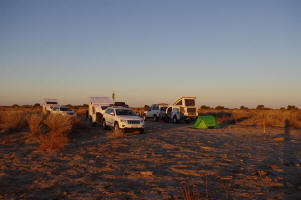 goyder's swamp campsite
Scenic, huh? Being a swamp, it is dead flat. As luck would have it, once out of the swamp, there are campsites everywhere along the track. We would have had to drive in the dark to get to them, and with no side visibility in the lignum scrub, it would have been stupid to press on.

An early start saw us in Birdsville in time to grab a choice campsite in the caravan park, backing on to the billabong. The VistaRV Demonstration Team put on a display of precision camping:
Ray and Jan joined us that afternoon, having come via the Haddon Corner route. We decided to have dinner at the Pub - bad move. Friday night is BBQ night, which means overcharging for not very good food!

Next morning we headed off to Big Red. We sat on the top of Big Red and enjoyed the entertainment of people trying, with varying levels of success and heroic failure, to scale the western slope on the four tracks available. After watching for a while we decided to head off across the QAA line towards Eyre Creek. Matt and I decided to turn back after a few dunes and have a play on Big Red. Russ, Sue and Alan continued on and had lunch on the banks of the dry Eyre Creek before returning to Big Red.

The bottom sections of the tracks on Big Red were becoming badly chewed up with some large bumps developing, and the sand was softening in the afternoon sun. The northern most track was really badly chewed up and we had watched a few people try it and become seriously airborne over the bumps at the bottom.

I decided to have a shot at the second track, the middle one of the three straight up the face. I worked out where the worst bumps were and chose my line. I raced for the face and shot up with no trouble at all. Matt decided if I could do it, so could he. After a few tries he managed a successful climb and was very happy as nearly all contenders had failed.

This 100 series had a great paint job, courtesy of the Anne Beadell Highway:
That car is actually white! We told him he should sell it to the Army as desert camouflage.

We left Birdsville after filling up on diesel - $1.70 a litre as opposed to Innamincka's $2.10 a litre! This was the first fill after Tibooburra - score one for long range tanks! We headed east along the Birdsville Development Road which is becoming more bitumen than dirt lately. Betoota has been cut off with a bypass now. Along the way we came across the Snake Totem on the roadside: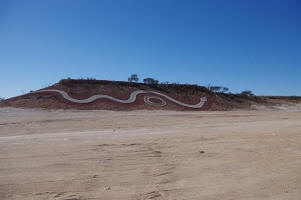 The roads from Birdsville to Bourke were strewn with dead roos and emus. We also saw quite a few dead feral cats - the best kind - and a few live ones, feasting on roadkill or racing across the road. There must have been at least one dead roo or emu for every few hundred yards of road. We turned south to the Haddon Corner track and then drove out to the Corner. Along the way we saw a group of three wedge tailed eagles feasting on a dead dingo.
To get to the Corner post you have to cross two easy dunes. There was a group of campers at the day shelter and we just took our photos, walked around the marker and left to head further south.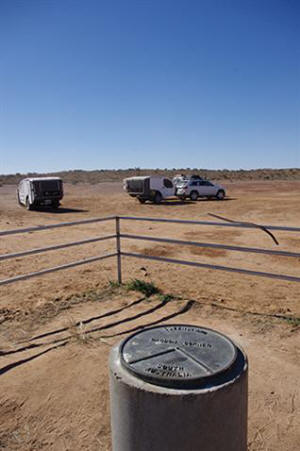 Camp that night was a flat patch of sand with grasses and small spinifex clumps between the dunes on a side road from the main track. The sand was quite hard as it contained many termite nests.

We set off next morning to head down to Nappa Merrie and The Dig Tree. Upon arrival, I discovered a flat tyre on the Crossover. It must have been a sharp rock on the track in, just managing to find the gap between tread blocks and making a nice, neat hole. We tried to plug it, but it kept on leaking. Changing the tyre provided entertainment for the crowds who had turned up to view the tree.

From the Dig Tree we pressed on eastwards along the Adventure Way. This is now almost entirely sealed as well.

Our target was Noccundra Hotel as we had heard good things about the place... It is about 20 kms off the Adventure Way, but well worth the diversion.

We camped at the free camp at waterhole on the Wilson River across the road from the pub. Half a dozen fellow travellers wandered over to ask us about our Crossovers as one of them was considering buying one. They spent ages asking us questions and climbing in and out of the Crossovers.

As darkness fell, we headed over to the pub. It lived up to expectations, despite not having chips! The licensee is a great character, regaling us with tales of crazy requests and comments by travellers - "What do you mean, you don't have a corner spa suite!" and "This is not the Outback!", etc.- plus stories of the area. The pub was built in 1882 from stone carried hundreds of kilometres by camel trains. The builders were obviously shorter than we modern folk. Many of the doorways are only around 160 centimetres high.

The steaks were excellent and the staff great. It was a really good night.

Noccundra is an amazing spot. There is the pub, a public hall, public toilets and free showers, a flood lit tennis court, shade cloth covered playground and a fabulous waterhole across from the pub. In the middle of nowhere! No houses, just the pub.

Next morning we continued along the way to Thargomindah - what a great name! - where Alan and Russ added some fuel. I figured I'd pump some out of my jerry cans with the Tanami pump. As I finished off the second jerry, the hose managed to come out of the filler and sprayed the car and me with diesel froth. Wonderful! Half a packet of baby wipes got the worst of the smell off me...

We drove on to Cunnamulla where Alan peeled off to continue east and visit some relatives at Moomba and Warwick. Russ, Sue and Matt and I turned south towards Bourke.

Evening caught us about 100 kms north of Bourke and with too many suicidal roos so we found a spot off the road for the night, with road trains thundering past at intervals all night. That explained all the dead roos…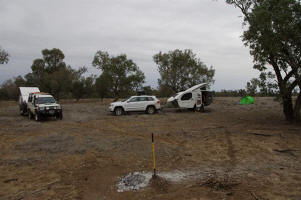 Next morning, Matt and I headed off early to continue south, leaving Russ and Sue to have a more leisurely start as they were only driving to Bourke to restock and start their Darling River Run. Matt and I did not have enough time to do the Run justice, so we just headed home. We fuelled up for the last time in Bourke and headed on south through Cobar and on to Hillston and then Griffith for the night.

Along the way we followed a road train which must have been empty. The last trailer was swaying incredibly, wandering at least 3 metres, side to side. Fortunately all the vehicles coming the other way managed to get past without clipping the last trailer. No-one dared overtake him...

Next morning an early start gave a good run down to the Murray and the drive down the Goulburn Valley Highway to the Hume and home by just after 1:00pm.

It was a great trip with some fantastic fellow travellers. Excellent weather (it was only cloudy for the morning at Noccundra and about 200 kms around Bourke) and great tracks. We covered around 5000 kms in two weeks.


article by David Jones