WA Trip
by Roy Speechley
On the 29 August 2004 we headed of to WA with our recently purchased Roadstar Off-Road Caravan towed by our trusty 1997 NL 3.5l Pajero. I had previously modified the Pajeroís suspension because of off-road use and the addition of a long range fuel tank. This proved more than adequate for towing the van. The long range tank came in handy across the Nullabor Plain, especially with severe westerly head winds!
After spending a couple of days at Norseman checking out the mining areas we headed north to Goongarrie National Park for an overnight stop. Not a bad spot, plenty of drinking water and flushing toilets at the old homestead, but the countryside was very dry. However slightly further north wildflowers appeared everywhere.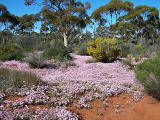 We then travelled north to Wiluna (end of the bitumen) and then headed west to Meekatharra. From here we travelled north westerly towards Mount Augustus crossing the Murchison River many times.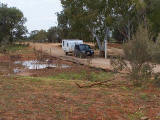 Our next major stop over was Mount Augustus National Park, a fantastic large rocky uplift with many walks to view wildflowers and wildlife.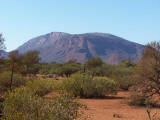 After three nights here we kept heading west to the Kennedy Range National Park. Another great place to have a look around. It was here we discovered our Waeco110l fridge had broken a small pipe from the compressor to the thermostat thereby losing gas. We had this repaired in Carnarvon under warranty. Lucky for the Engel in the vehicle, as temperatures at Shark Bay (our next stop) were in the low 30ís as the Waeco was still not operating properly.
We visited the Dolphins at Monkey Mia, went for a day trip out on to Peron Peninsula before heading around to Tamala Station on the southern side of Shark Bay. We had read that this Station now allows camping, this proved to be correct, as we had our own beach for several days and the Flathead I caught made a nice meal. From this base we took a day trip to Steep Point, the most westerly point of the mainland.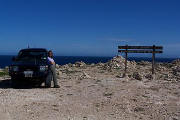 We had been warned that the shire ranger was dynamite on people who did not deflate their tyres to the required 20psi for the trip along the sandy track. Steep Point was covered in Wildflowers and was well worth the trip.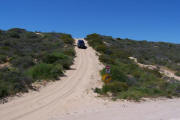 From here we headed down to Kalbarri National Park to view the wildflowers to compare what we had seen here about four years ago. Nearly as good, but we were about two weeks early. From here we made our way down to Perth and stayed there for about ten days, as my wife had booked us into a number of wildflower and natural history tours organised by the Western Australian Field Naturalists Association. By now you have probably deduced my wife likes checking out wildflowers! Anyway we did get to see some areas shown to us by the locals that we would not have otherwise found.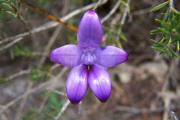 Following the time at Perth we headed to the Stirling Range National Park for a few days and undertook some walks especially the very steep Bluff Knoll walk.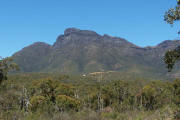 We then headed north to Wave Rock, a very over rated place! Rather than stay there we kept going north and camped in one of the roadside camps on the Great Eastern Highway. After fuelling up at Kalgoorlie, including the extra I needed for the trip across the Great Central Road, we stayed at Leonora after checking out the old gold mining township of Gwalia.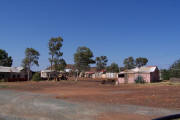 I carried the extra unleaded fuel as this is no longer available because of the petrol sniffing problems. I have since read the area is now covered by a new BP unleaded fuel called Opal which has had the various chemicals removed to prevent getting high on sniffing.
The Great Central Road is slowly being upgraded, but on our trip we hit heavy corrugations about 200km west of Warburton. On arriving at Warburton, we discovered a light had fallen from the roof of the van and broken and the screws holding the stove had nearly all come out. This is the effect of corrugations even with deflated tyres. We continued easterly with the next 100km badly corrugated, these diminished as we moved father away from the communities. We stopped to check out the Giles Weather Station at Warrakurna and some distance further on we hit a 35km rocky section which was severely corrugated. After hitting the NT border, the roads became more sandy and these corrugations felt good to those previously travelled. Along the way we saw many camels and took a minor detour to look over Lasseterís Cave.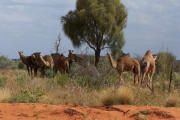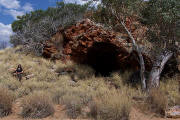 We arrived at Ularu just on dusk as we had stopped to take photos of the Olgas from the west which you donít often get to see. We stayed two nights at Ularu to check out the rock again (we had previously visited the area) and were amazed at the $25 per head to enter the park.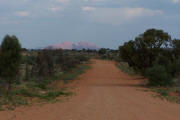 From here we travelled down to Coober Pedy for an overnight stop before travelling the William Creek Road to the Oodnadatta Track. We had lunch at William Creek and moved on to camp at Coward Springs.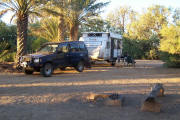 This is a fantastic stop over for a spa and relax. We had stayed here a few years ago when we visited Lake Eyre full of water.
Our trip was nearing an end and we next camped in Parachilna Gorge, the cutaway on the rear of the van proved handy when crossing a creek bed to get to a good camp site. It was now that I am glad I had talked my wife into having driving stints towing the van, I came down with a severe head cold/virus and she took me directly to doctor in Hawker, I was so out of it I crashed in the van for the next 6 hours. The next day the antibiotics had started to take effect so we took in turns to drive home back to Bendigo.
The only other problem we had was losing the spare wheel from the rear of the van somewhere between Coward Springs and Farina, apparently it was only held on with a centrally welded threaded rod, rather than a bolt! As the wheels were the same size as the Pajero I didnít worry too much about potential punctures given we were back on the black top. This became an insurance matter later!
The van handled the conditions extremely well covering some 2,700 kms on outback roads and around 14,500 kms altogether over 8 weeks. I have since removed every screw inside the van and glued them back in place. We have thrown the stove away because the jets bounce around and the griller broke off and this unit has been replaced with a single piece Swift stove with screw down jets.
As to the fridge, Waeco Australia provided modifications to the compressor, an upgraded fan and subsequently a new thermostat. It also had to be re-gassed and this was all done at no cost.