nsw
watagans weekend
Saturday 19th to Sunday 20th October, 2002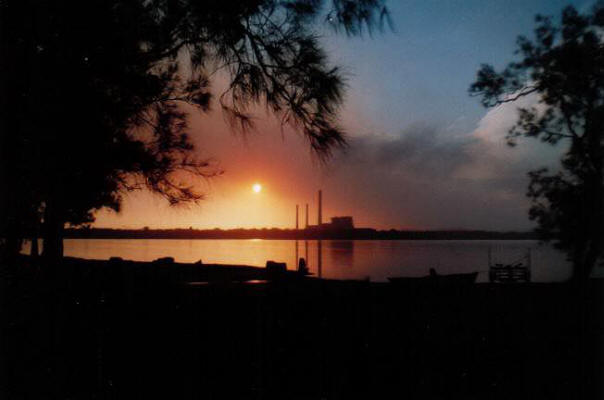 the bushfire from across the lake
The Australian CamperTrailers Group was started as a Yahoo Group in 2001 as a means for camper trailer owners of different makes & models to exchange ideas, tips & tricks as well as information on trips that were suited to camper trailers in general.

During online discussion members were very keep to meet the faces behind the typing, so the first members weekend get together was arranged at the Casuarina Camping Area in the Watagans State Forest just south of Newcastle NSW on the weekend of 19th & 20th October 2002.

Two couples, Ron & Shirl and Mal & Lynne, had driven from Melbourne for the weekend, tying in other plans around the trip. Friday afternoon saw Rob & Carol, Kim, Ari & Naomi, Ron & Shirl, John & Anne and Kevin setting up camp.

There was a total fire ban in place, but as we sat around Ron & Shirl's camp light the ice was soon broken & a variety of topics were discussed centred around camper trailering, camping & travel.

Saturday morning saw us looking at the ideas of how others had set up their camper trailers while waiting on the arrival of other members. A visit from the forest ranger informed us of a bushfire started the night before by the lighting of a stolen car & reassured us we were safe. Des & Judy arrived just as one of our neighbouring campers came with the news he had received a phone call from a friend who had heard on the radio that police were to evacuate the camping areas at the Watagans. We had a vote & decided to move camp to a safer position outside the forest.

Meanwhile Mal & Lynne had been stopped by a forestry sign from continuing along the map route because of fire on both sides of the road. Not knowing the area they were totally lost. They saw Wayne, Pat & family towing a camper trailer & decided to chase them. This then put them in a `two heads are better than one' situation. Just as we were about to leave camp they arrived.

We drove out of the Watagans in convoy to a safer place to chat. Ron & Shirl along with John and Anne decided to leave us instead of erecting camp for another night. Rob & Carol then lead a tour of the western side of Lake Macquarie that will remain with those who followed for the rest of their lives. It was necessary to find a caravan park which allowed Wayne & Patís dog. We soon found a pleasant grassy camp under the shade of trees right on the edge of the lake at the Chain Valley Bay Caravan Park.

Another pleasant night was had chatting & swapping stories in the glow of the 12volt fluro lights. It is funny how much we all had in common. Sunday saw the parting of our ways after a very long breakfast.

John & Anne, along with Mal & Lynne got a valuable insight into camper trailering with plenty of questions & how we had individually set up our campers. John & Anne are waiting for the arrival of their Ultimate, while Mal & Lynne were on their way home via Wodonga to order their new Kanga Camper Trailer.

Postscript 1. Peter & Janice arrived at the Watagans campsite on the Saturday afternoon to find us all gone. A couple of campers told them we had departed around lunch time.

Postscript 2. Peter & Janice had arrived the weekend before the planned event only to find no one around.

From that first weekend meet we learnt that it would be a good idea to have the phone numbers of those attending, just in case.

happy camping
Rob & Carol