water tank
drain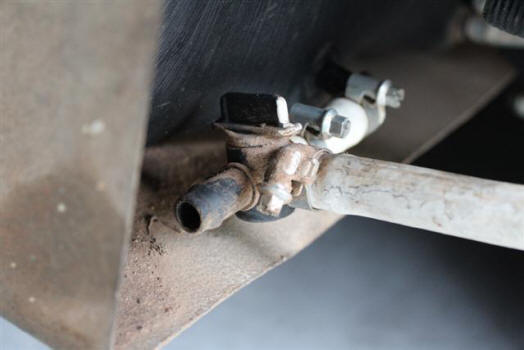 protected from stone damage by steel guard
Most off road camper trailers that come with an underslung water tank do not have a drain facility to empty the tank. If you are not using your camper trailer for any length of time it is a good idea to empty the water from the tank to avoid bacterial growth.
I like browsing the shelves of various shops for ideas to potential camper trailer projects & came across a PVC 12mm T fitting with a tap at Jayco in Newcastle. This tap is used to switch between two water tanks to a common outlet & has a positive lock holding it in position. First thought was, could this be used as a drain for the water tank.
Before putting this article together I wanted to make sure my idea worked, so after 10,000 kilometres over highway, dirt road & tracks it has not accidently turned on or dripped any water. As the saying goes it is a good idea not to put all your water in the one container. We always carry a couple of water jerry's.
First up I fitted a ninety degree 12mm screw-in PVC fitting onto the tank with a barbed fitting on the other end. This made the tap sit flush to the side of the tank & inside the edge of the tank's steel stoneguard. Do not use thread tape on the PVC fitting as it will flatten the thread of both the fitting & the PVC tank. You should be able to just screw the fitting in until it bottoms out & seals itself in the bottom of the hole. You can also wipe a little non acid grade silastic to the last few threads of the fitting to seal it.
I added a short length of food grade 12mm hosing & then the tap, both secured by hose clamps. The T runs to the handpump on the side of the camper.
For a quick walk around visual check I added white paint to indicate the flow of water. Pointing towards the outlet hosing goes to the handpump & when to the end it works as a drain.
| | | |
| --- | --- | --- |
| | | |
| 90 degree fitting | sitting flush with the side of tank | white paint indicates water flow |
article by Rob
september 2012