Wayne's bike rack
for my 98 model cub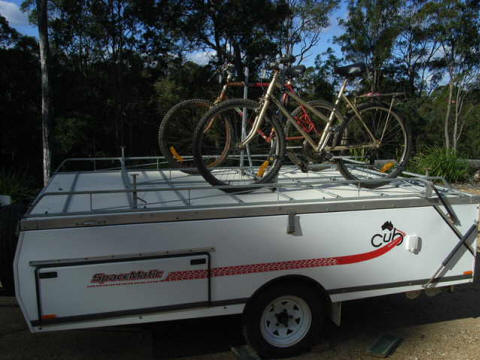 the beginnings
After being inspired by the bike rack ideas on the campertrailers.org's tech tips pages I set about building my own version which could hinge down flat against the rack so I could flip the hardfloor over.

I had to buy the 900mm box section. The two pieces of 450mm were bits from an old kitchen chair & the pipe was just a few bits I had laying around that fitted perfectly over the box section.

I welded a couple bits of the box section to the side of the two pieces of pipe to make a hinge. Slipped those plus one piece of pipe in the middle of the base & welded on the uprights, then the braces.

I then welded the whole unit onto the existing carry rack of the camper. Fitted a couple of spring clips to the existing carry rack to hold the bike rack in retracted position so I can flip open the camper.

Total cost to me $20 for the box section, a few welding rods, time & patience.

cutting list
base and uprights - 3 x 25mm box section 900mm long
braces - 2 x 18mm box section 450mm long
hinge - 2 x 42mm outside diameter pipe x 80 mm long
hinge - 1 x 42mm outside diameter x 30mm long
thanks to Wayne Perry for sharing this idea
july 2010