collecting information
on where to go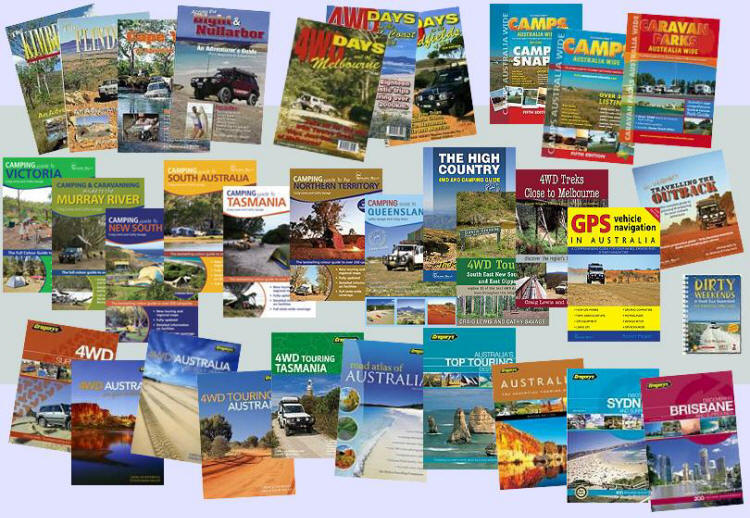 Now that you have bought your camper trailer, where do you go camping? Perhaps you like the facilities and comfort of a caravan park or on the other hand prefer back to basics bush camping with little or no facilities and sitting around the campfire with the billy boiling and the smell of cooking from the camp oven. Finding where to go camping on a weekend get away or even your annual holidays to suit your style of camping can be easy if you know where to look for information.

If you like bush camping on your holidays you might drop into a caravan park to recharge the batteries, top up the water tank, wash your clothes and while in town top up the food supplies and the vehicle's fuel tank, before heading off for another isolated camping location for several days of blissful camping.

Not that long ago camping information was restricted to a few 4wd magazines and a handful of dedicated camping and touring publications, the odd newspaper article or forestry and national park handouts. Haven't times changed with the increase in the popularity of camper trailer ownership. Now there are a number of books and websites devoted on where to camp, along with what to expect when you get there. Buying a good map book like that from Hema is a great start, especially for weekend camping trips exploring your own backyard.

The biggest advancement in recent years is the information highway of the internet. Google is your friend. Type a place name into Google and you will find plenty of information on what to see within a few hours drive from home for a quick weekend getaway. There are also plenty of websites devoted to camping locations. For caravan parks you could try Badger's caravan park reports website.

Your state's national park website will list if the campsites are suitable for camper trailers or tents & don't forget to check your state's state forest website.

You can't beat personal experience and that goes for chatting with others while out and about. Other campers are only too willing to share a great sightseeing or camping spot they have fallen in love with.

Over the years we have collected the national park and state forest information sheet handouts and have these sheets catalogued in different folders according to geographical location. It is a simple matter of opening the area folder you are heading to for the weekend and checking what is available in the way of camping sites and sightseeing.

There are some fantastic publications around these days. A number of self guided books with route maps and track descriptions are available from most good camping accessories or mapping shops. The Camps Australia Wide book, now in its fifth edition gives plenty of information on low cost camping locations. You can purchase an additional photo book showing photos of the campsites so you can see what the locations look like. All camps can be added as a POL or place of interest in your GPS so you can be directed right into camp.

Don't forget the travel stories in Campertrailer Australia magazine will give you a personal insight as to how others have tackled the trip, along with places to see and camp. A handy list can be found off the front page of the campertrailers.org website http://www.campertrailers.org/campertrailer_australia_destinations.htm There are also some great travel stories on this website at http://www.campertrailers.org/trip_reports.htm

4wd magazines and Sunday newspapers often have travel stories featured & are a great source of info too. Then jump on the net & Google to see what is around the area & places worth a visit.


links to books
ABC Maps http://www.abcmaps.com.au
Boiling Billy http://www.boilingbilly.com.au
Camps Australia Wide http://www.campsaustraliawide.com
Dirty Weekends http://www.dirtyweekends.com.au
Discover Australia series by Ron and Viv Moon http://www.guidebooks.com.au
Gregory's http://www.gregorys-online.com
Outback Travellers Track Guide http://www.outbacktravellers.com.au
Wild Discovery Guides http://www.wilddiscovery.com.au

links to websites
Badger's caravan park reports website http://home.vicnet.net.au/~badger04
Australia's national parks http://www.atn.com.au/parks/parks.htm
by Rob
august 2010