White Womans Waterhole
near won wron victoria
held on the Australia Day long weekend of Saturday 24th to Monday 26th of January 2009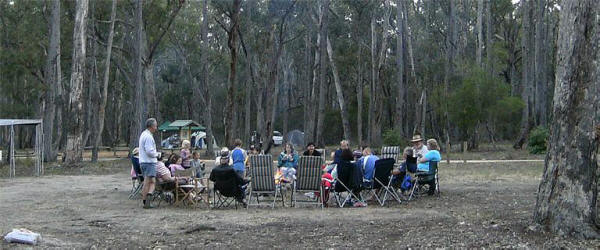 location
The White Womans Waterhole campsite in the Won Wron State Forest is approximately 210 km east of Melbourne in Gippsland just 5 km from the small town of Won Wron. There is one drop toilet and no drinking water. The free camping areas and facilities are currently being upgraded, including wheelchair access, by the Department of Sustainability and Environment.
the campsite name
A number of conflicting stories exist about the naming of White Womans Waterhole. One favoured story, with a happy ending, concerns a ship that was wrecked about 1854 on the nearby 90 Mile Beach. The sole survivor was a white woman who, after the shipwreck, lived with a tribe of Aborigines who used this waterhole. She engraved a message on a nearby tree which was subsequently found by a passing stockman. A search party was formed and, after a skirmish with the Aborigines, the lady was rescued whereupon she returned to England. At her parents' request, the section of the tree with the message was cut and sent to them, eventually, so it is said, to become part of a London museum collection. During the Depression years the Forests Commission operated charcoal kilns near White Womans Waterhole. Tracks used for this and a subsequent sawmilling operation in the area, are still evident near the waterhole. The old railway line minus the tracks and sleepers were just a short walk from the campsite. The waterhole is currently dry (see photo further below).

If you are historically minded, this is well worth reading: The Great "White Woman" Controversy


weather
From the start of the weekend, the weather was perfect - very hot and sunny until we all left on Tuesday. Almost everyone seemed to have a solar panel up and running taking advantage of the free power available. We were very lucky - just days after this get together, Victoria experienced one of its worst heatwaves in over 40 years with 3 consecutive days of total fire bans and temperatures over 43 degrees.


wildlife
Giant lace monitors (up to 2 metres long) are very active throughout this forest area but none of us saw any. A photo of one taken previously at our campsite appears further below. Sighted were a few koalas and kangaroos. Over 100 bird species have been recorded in the nearby forests – I noticed the Graham Pizzey/Frank Knight "Birds of Australia" guide being consulted quite a bit. The sounds of koalas screeching during the night were quite startling. I still wonder what animal it was that jumped onto my camper trailer and crawled up the canvas in the middle of the night (certainly not a possum, maybe another camper?).


activities
Apart from the Happy Hour around the campfire at the end of each day, on Saturday night a "Show and Tell" was held where we could show off some of our handiest items when going camping. I'm happy to say all were "Made in Australia" as requested in my email to all poll voters.

This was followed by an Aussie supper of iconic Aussie cakes, snacks and lollies that were placed on a central table and shared by all - lamingtons, Anzac biscuits, Tim Tams, Minties, Kool Mints, Teddy Bears, iced Vo Vo's. Special thanks to Shirl for the mouth watering pavlova that emerged from the Goldstream RV. There was no floor show or bush band – as host I find we entertain ourselves quite well enough as it is (especially with a half full bottle of wine).

It was good to see a wide selection of Australian flags flying, as well as Ron and Shirl's large pirate flag near my CUB Kamparoo (the parrot was nowhere to be seen). Doug and Jeannie's enormous Scottish Royal flag ("Lion Rampant") fluttered at the rear near the dam – signifying the residency at the campsite of the Queen's representative Tjindi (see attendees further below). I'm a pro-Republic person myself, but have absolutely no worries about flying my Aussie flag on such an occasion.

The traditional informative Walkabout visiting each camper trailer was held on Sunday morning. Each owner gave a 5 minute talk about their set-up, warts and all, including the cost. Caravan and tent users were not excluded. As I've previously pointed out - it is amazing what suddenly appears out of ovens during these walkabouts – thank you Sandy/Ian and Karen/Jeff for those scrumptious scones.

There were many other entertaining and memorable moments for all of us – the obligatory Vic sideshow where we all pull up our chairs, grab a drink, and torture a spontaneously selected member by watching them set up their camper trailer – thanks Dave and Sue (and Alana) for being such good sports!
excursions

On Sunday after the morning Walkabout five vehicles set off in the convoy I had suggested for Tom's Cap Lookout and Winery. It was certainly a case of TomTom vs Garmin vs common sense. Great to have any GPS to test anyway. And a classic case where having a CB radio was a major advantage. Once we reached the small lookout parking area, a 4WD shuttle service provided by Doug and Ian ferried us all to the top – it would certainly have been an unpleasant walk to the top in the heat.

Locals in the area were convinced that a track could be made to the sea from the inland grazing country near Stratford. On a seventh attempt in 1841, a track was cut to a peak on top of the Strzelecki range which they named 'Tom's Cap'. At the summit, their toil was rewarded by a splendid view of Corner Inlet, a waterway that would open up Gippsland as an agricultural region. Port Albert became an international port in 1841.

A memorial cairn erected in later years can be found on the summit of Tom's Cap today, which is where all of us in the convoy took numerous photos. Unfortunately there are no longer any panoramic views of the coast – now there's just a few gaps where one can peer through all the trees.

The convoy then proceeded to Tom's Cap Winery. Whether because of being too busy or too understaffed this long weekend, we left most disappointed and empty handed.

Because of the superb weather, and the heat, we then headed for Woodside Beach, where the Ninety Mile Beach starts. I don't think any of us realised how close our campsite was to the coast. A picnic was held under the trees in the main drag, and then it was a short walk to sand and surf.

At other times during the weekend, individual excursions were made to Tarra-Bulga National Park, and the nearby towns of Yarram and Port Albert (fish and chips ahoy!). A possible future campsite at the nearby Big Tower - erected in 1941 - was also checked out.
special thanks
Special thanks to Bob Chaffey and Butch Watt from the Department of Sustainability and Environment Land and Fire Management for not only visiting us a few times to see that all was well and handing out information leaflets, but also generously providing lots of firewood for the Group's use. The photo of the giant lace monitor at White Womans Waterhole (see further below) was kindly supplied by Bob Chaffey.
attendees
A number of members had arrived by Friday lunchtime, with the rest turning up on Saturday. The last of us left Tuesday afternoon.
Attendees were:
Andrew, Simone, and Joel (4), caravan, Ford sedan - new members

David & Brenda, Oztrail Camper 6, sedan – new members

Doug & Jeannie, and Liam (15), dog Djindi, Ultimate, Mazda Bravo crew cab ute

David, Sue, and Alana (4), Pedders Xtrail 001, the Mighty Volvo sedan

Jeff & Karen, William (11) & Andrew (9), Trak Shak, Ford Ranger twin cab

Dale, Karen, Emily (17), Nick (14), & Jeremy (9), Dingo, Commodore wagon

Ron & Shirl, Goldstream RV cutaway caravan, Nissan GU Patrol

Mike, Sheryl and dog Maggie, Ultimate, Jeep Cherokee

Dale, Exodus Kingston ("The Tardis"), 4WD ("Moby Dick")

Lindsay Sandra, and Trae (7), Sunwagon, GQ Patrol

Ian & Sandy, Brooklyn (9), Lyndsay (8), Dingo 2000, Nissan Patrol

Robert (host), CUB Kamparoo, Ford LTD sedan

All up there were 33 of us in all age groups (plus 2 dogs) staying in various camper trailers, caravans and tents.

Non-members staying at the campsite, and invited to join us (and become members) were:

Sean, Dani, Cailey (10), Taylah (8), Bohdi (7) and Ava (3), Coromal

Silhouette caravan, Pajero (from Gold Coast Qld - travelling around for several months)

Sue & Russell, Jayco caravan, Falcon sedan (from Geelong Vic) (creators of gas bottle cooker)
Everyone who attended would probably agree that White Womans Waterhole, with its central fireplace and a large open area for the children to play, its history and numerous forest walks, and being fairly close to a beach, was a magnificent location for a summer get together. IMHO certainly a piece of the real Australia. I would recommend it to anyone who would like to have a go at bush camping with minimum facilities. My thanks for a great time to everyone who attended, especially considering in some cases the long distances travelled, and the bush camp conditions.

Once again it is easy to realise just how much we all had in common & yet still have interests other than camper trailers. Everyone was friendly, and in particular the first timers and newer members, as well as the guests, were made especially welcome. Many of us learnt about and saw some interesting things to try and buy, as we all seem to do at these get togethers.

On a personal note, this was my first ever bush camp. I'm now totally convinced, when going bush camping in Vic in hot weather, of the merits of (1) a reliable fridge (2) a portable toilet (3) a solar panel, (4) a good insect repellant, and (5) an instant hot water/shower system. The latter is my newest toy – my thanks to those who offered or donated water during the weekend. Unfortunately I can't carry much water with my present camper trailer/car setup.

So that's it! I enjoyed your company enormously so I'm really looking forward to the next get together!

After being a member for 6 years, attending 16 get togethers in four states, and hosting 5 times in Vic, I have decided to take a break from hosting until sometime during 2010.

Robert



more photos
A selection of photos by Robert can be seen at 02WHITEWOMANSWHOLEVICjan2009