wyangala dam
september 2010
by gary Laker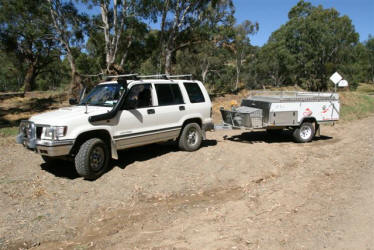 For the maiden voyage of our Cub Supamatic Escape I chose something within a few hours from home with a mix of road conditions and terrain. At just shy of 350 km from home, with a mix of dual carriage expressway, major and minor bitumen and , my personal favourite – dirt, and a great mix of gradients, it was an ideal combination of road conditions for a 'shake down' run.

The trip began, as most do, in the driveway about 7 am when I arrived home from work. The Cub had been placed in the launch position a few days prior and was mostly packed, ready for departure. The tow vehicle, our trusty Jackaroo, needed the fridge, clothes, fishing gear and other assorted bits and pieces loaded on board as well as fitting the Rhino Rack (world's most expensive firewood and shovel carrier!) on top.

Two hours later all was loaded up, hooked up and tied down. Time to hit the road. My travelling partner for this trip, much to my wife Francine's disgust, was my son Andrew. He had a week off work on annual leave and for an 18 year old, was surprisingly keen to head off bush with the old man.

We pointed ourselves south and around one & three-quarters hours later left the Hume and arrived in Goulburn. Whilst I had not towed a camper of this size for some time, with the exception of a lightly loaded Cavalier, I did not recall the effect on fuel consumption being so drastic. Although I have not had a chance to weigh the Cub properly when fully loaded, based on the manufacturers information, I would have 'guess-ta-mated' a towing weight around 800 kgs. I had gone through nearly half a tank just getting to Goulburn.

My last camper was an Adventure and when fully loaded with all the gear, boat on top, Honda outboard on draw bar etc etc, weighed in at nearly 1200 kgs. I would still get around 550 kms out of a single tank with four passengers. I had recently had some work done on the truck's engine which had improved both the performance and the fuel economy. What was going on here ?

After topping up the fuel and having a stretch we set off again, heading towards Crookwell, I started to take notice of how I was driving. Now whether it was due to post nightshift fatigue or the excitement of the maiden trip I'm not sure, but it soon became apparent I was driving like there was no trailer behind me at all. Sure I could see it in the mirror but where I was failing was in the right foot and left hand department. I had lost or forgot to engage my 'towing brain'. I was accelerating or trying to, and shifting like the trailer was not there. By making the necessary adjustments to both, the next time I filled up I had travelled nearly 50% further for the same amount of fuel used. Prior to heading off down the Hume I had travelled 50 kilometres in Sydney traffic driving home from work and I was still driving in the same manner. I had forgot to switch to holiday mode and take it back a notch or two. Worth remembering.

After Crookwell we headed out along Junction Point Rd towards Binda, after passing through Binda we turned left onto Bigga Rd passing through Blanket Flat and eventually the township of Bigga. A kilometre or two out of Bigga, near the turn off to Grabine State Park, continue along Reids Flat Rd. Dirt !... at last.

From a driving perspective this is the best part of the trip, from Bigga to Reids Flat and Reids Flat to Darby's Falls Rd it is a delightful drive that takes you through some spectacular scenery, some 'no snorkel required' creek crossings and much beautiful grazing land (there may be stock on the road) and farming properties, particularly now after all the rain. The other upside of the rain is the effect it has on dirt roads, yep – mud !

Just before Reids Flat you will cross over the Lachlan River causeway. On this occasion we had about 600 mm up our sleeve before it went under !

After navigating your way through the village of Reids Flat, this will take you about two minutes, turn right (a left turn will have you heading to Boorawa) onto Tarrant's Gap Rd. Another causeway crossing shortly after will confirm you are on the right track. More dirt, more beautiful scenery and isolated farms. You will come to Fisherman's Lane, keep left, Fisherman's Lane runs into private property. Further on you will pass an intersection with Mt Darling Rd on your left, keep to the right and the next intersection should be the bitumen (sigh) and Darby's Falls Rd. A right turn here and it's about 10 minutes to the gates of Wyangala Waters State Park.

The access road takes you over the top of the 'new' dam wall, for quite a few years the old dam wall has been visible due to low water levels, during December 09 it was down below 10%, when we arrived it was 28%, a week later it was 35%. When it's full (1.2 million mega litres) it's 2.5 times the size of Sydney Harbour and is utilised to irrigate farming land, not for drinking water, hence boating and water sports of all types is allowed.

At Wyangala Waters the accommodation choices are huge. Everything from a patch of grass, or dirt, to a self contained cottage perched on a hill with million dollar water views. All the amenities blocks have been replaced over the last few years and are first class for a park, there is even a community hall for hire to cater for 'events'. Tariffs vary from $15 a night for a non powered patch ($19 powered) up to $164 per night for a cottage. There is another area called 'Backwaters' camping, limited or no facilities, for $10 a night per site or $165 for a 12 month pass. Due to the recent heavy rains this area was closed, as everyone who went in got bogged. Even the locals were getting stuck, I think they were not used to so much mud!

After handing over the 'hard earned' at reception, and discovering we were the only people actually staying in the park (it was a weekday) we headed for Kurrajong Point camping area. This is the last area before the "backwaters" and most of the sites are perched on a hillside and have beautiful water views across to the next property.

This was one of those 'true to form' camping trips. Left home in full sun, at Goulburn it was overcast, by Crookwell it was raining and as we finished levelling the camper on a slight side slope and began to unfurl canvas – it started to hail, unbelievable. Not thirty seconds after the last awning rope was tensioned, it all stopped.

Fortunately this was the last of the foul weather and for the rest of the stay the weather was awesome. Along with camp fires (not permitted from November to April), star gazing and copious amounts of 'slothing' around we managed to fit in a day trip to Cowra, the Japanese gardens, POW camp memorial, railway museum and station and the 'fun' museum on the road to Bathurst can all fill in a day with little effort, as well as exploring lots of 4 wheel drive tracks around the area.

Wyangala is an inland mecca for water sports or all kinds, particularly water skiing, fishing, sailing and canoeing to name a few. For a birds eye view have a look at http://maps.google.com.au/maps?hl=en&tab=wl and type in Wyangala. Not sure when these shots were taken but the water level is fairly low, zoom in and see how far the boat ramps are away from the water. Move in an easterly direction to the other 'leg' of the dam catchment to check out Grabine State Park which was closed due to lack of water in September.

There is a kiosk inside the park open at various times. There is no mobile or internet reception in the park at all, which I reckon is a plus, it does have a pay phone though and an 8 kilometre drive along Reg Hailstone Way to the top of Mt McDonald, also the turn off to the back water camping areas, will gain full reception.

post script – december '10

Just returned from another short break to this great location and what a difference a few months can make. The record rains for the area have seen dam levels rise to 92 % ! The village of Reids Flat nearly went under, with flood debris spotted 8 or 9 metres up in the trees around the Lachlan river causeway ! The boat ramps are all back in the water and so are the boats. The old dam wall has disappeared into the depths again, for who knows how long, and visitors are back to make the most of it.

We fronted up between Christmas and New Year, with some trepidation I might add, and though busy, we were one of only three vehicles at Kurrajong Point and still had the same unobstructed water views, only the water was a lot closer and much bigger ! Having a look at the storage reports http://waterinfo.nsw.gov.au/sr/valley-lachlan.shtml it showed in one day an inflow of 106,000 mega litres of water, one mega litre is 1 million litres!

Unfortunately all this water brought an awful lot of topsoil with it, so it was a bit like swimming in cold coffee, but at 30+ degrees in the middle of the day, who cares ?, it was cool and wet ! It did look a little surreal with the tops of some trees poking out of the water, some a fair distance from the new shore line, some of these trees were several metres tall and had been above the water line for many years. I'm not a botanists' boot lace but I will be surprised if they adapt to their new aquatic environment, time will tell.

Grabine State Park is also open again and while it is not as developed as Wyangala Waters, it is a top spot on the same body of water. Both areas can be accessed via some great scenic dirt routes or via the black top from a number of directions. Plenty to do, or not !, great camp sites and amenities for a reasonable cost, with plenty of choices, and about 4 hours drive from suburban Sydney and lots of resident wildlife.


thanks to Gary Laker for sharing this trip with us
february 2011