could you be an average
CamperTrailers Group member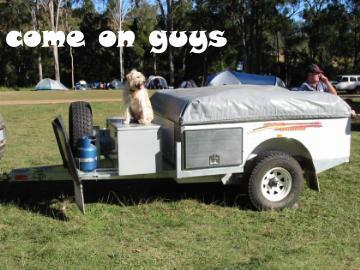 The following has been compiled from a number of polls which have been held within the group.

The average member of the Australian CamperTrailers Group lives in Queensland, NSW or Victoria & has a fulltime job. They are members of a 4wd club & have been camper trailering for around one to five years, buying new after upgrading from a number of years camping with a tent. They prefer to bush camp all year round with minimum amenities.
Most prefer holidaying/touring in QLD & think bollards in national park camping areas are a nuisance, restricting the freedom of camping with their much loved camper trailers.
They feel the fact a locally manufactured camper trailer doesn't really matter for possible future warrantee claims or backup service, as they would prefer the camper of their choice. Cheapness wasnít a factor & they would rather buy a camper fully optioned, rather than buying a standard camper trailer & doing a DIY fit out themselves.
The majority have not crossed the Simpson Desert, however they do feel that they would take the advice of the South Australian Dept of Environment & Heritage about not taking their camper trailers across the Simpson Desert.

The average member owns an off road soft floor camper trailer with eye to eye leaf suspension, electric brakes, Treg off road hitch & have the same wheel/tyre combination all round. They have an onboard battery & carry a fire extinguisher in their campers. They travel with their awning zipped to the tent ready for quick one night stops & cannot lift the front of their camper trailers owning to the heavy ball weight.
The majority own a 6 cylinder diesel 4wd vehicle which is set up for touring holidays with a tirfor handwinch or electric winch, Hella or IPF driving lights & a dual battery system. Tyre size is either original or slightly larger with BFG ATís being the most popular.

They travel with their 2way 12/240volt camping fridge in the rear of their vehicle to keep the beer, ah I mean milk, butter & steaks cold. Some also own both a 2way & a 3way camping fridge.
Most travel with their headlights on during a dull overcast day or in rainy weather & prefer to drive within two to three hours to their favourite weekend camping spot.
Most have never had a flat tyre on their camper trailers & carry a spare for the camper as well as a tyre repair kit. Most have never had to recover their camper in an off road situation, although those who have, had used a snatch strap.

While out & about they take pictures with both digital & an SLR camera.

Members in the group travel to remote locations & have installed UHF radios for communication between vehicles & also as a safety measure. They hold a first aid certificate & know the correct procedure in case of snake bite.

A solar bag, 12volt turbo (Dick Smith, Jaycar) or heat exchanger (Glind type) is the most popular type bush shower arrangement they use when bush camping. A third of the group uses a 90 watt solar panel on average, mounted on the A frame or just leant against something, in conjunction with an intelligent 2 or 3 stage charging system either .
They do not know anyone personally who has had a camper stolen. It is noted that of any camper trailers stolen, none have ever been recovered.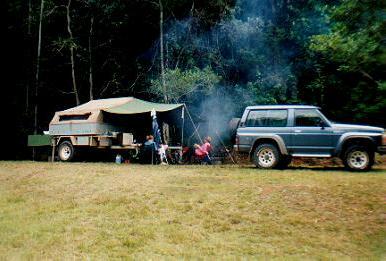 Do you rate yourself as an average camper trailer owner???