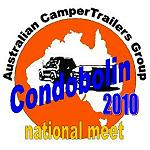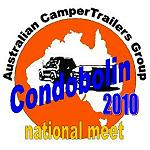 Australian CamperTrailers
national meet at Condobolin 2010
introduction
The Australian CamperTrailers Group's 6th national meet was held in the Condobolin Showground & Sporting Complex over the week from Monday 27th September to Friday 1st of October 2010 & hosted by the Condobolin Lions Club. Condobolin lies along the Lachlan River on the NSW Western Plains around 100 kilometres west of Parkes. The week attracted around 90 camper trailers, caravans & tents with over 226 people from as far afield as Tasmania, South Australia & Western Austraila.
The weather was mostly fine although a cool change saw us wearing coats on one day. It just so happened that we had a good downpour of rain in the early hours of Saturday morning at the end of the event resulting in a wet pack up.
The Condodobolin Lions Club supplied all the firewood for the campfires over the week so those attending had warmth in the evenings. There was plenty of cooking as well as some tall stories going on too around the campfires. Condobolin local shop owner, Lions member & councilor Marg Weales played a big roll in making sure our stay went smoothly & even brought a heap of local & Sydney papers after lunch each day for members.
The showground was just across the river from the centre of town & we were treated to the sounds of the local band at the pub on Friday night & a rehearsal of the Condobolin Scottish Pipe Band on Saturday night.
sunday opening
Sunday evening saw the start of the week with the grand opening. Group co-owner Kevin Phillips welcomed members to another & the 6th national meet & went on to tell of the groups beginnings in September 2001 & how the group has grown to over 5500 members with the present day popularity of camper trailers. The Australian CamperTrailers Group is the largest of its type on the net.
The Mayor of Condobloin, Des Mainwaring, welcomed the group to town & wished us all a pleasant stay pointing out some of the local sights worth looking at.
Group co-owner Rob Sanderson went on to outline the itinerary for the week with workshops held by members on a variety of subjects relating to camper trailers & camping in general. Being an internet based group there are subjects where the information cannot be easily exchanged through typing & this is where face to face workshops come into their own.
Given to us just before the event was a perpetual trophy for 'The Person Who Most Represents The Group' donated by Neil & Margaret Morton. Margaret present the trophy to last years winner Carolyn Davis who was able to kept it proudly for the week.
Joy and Dave Wilkinson hosted another 'Getting to Know You' session at the end of the opening. Everyone was given a sheet of paper with a list of questions to fill in and return which meant getting out & asking others questions.
itinerary
MONDAY



TUESDAY

WEDNESDAY

THURSDAY

FRIDAY

Morning

8:00 Communal Area
Breakfast by the Condobolin Lions Club

9:00 Jamie's Camper
Solar, 12volt & Batteries
Jamie Hazelden

9:00 Communal Hut
Travelling & Schooling
Narelle Stacey

9:00 Dave Cook's camper
Camper Walkabout
Dave Cook

10:00 Communal hut
Beading for the kids
Karen Priest

10:00 Communal Area
Campoven Morning Tea

10:00 Communal Hut
Craft & Chat
Carol Sanderson

11:00 Dave Cook's camper
Camper Walkabout
Dave Cook

11:00 Communal Hut
Storybook Making
Carol & Suzanna,
Karren & Allie

Afternoon

1:00 Communal Hut
OziExplorer mapping
Mike Fretwell

1:00 Jamie's Camper
Dual battery systems explained
Jamie Hazelden

1:00 Communal area
Hardy's Vs Softy's
Bolle competition
George Mavros

1:00 Communal Hut
Pamper session for ladies
Carol Sanderson

1:00 Communal Hut
UHF radio
Kevin Beckwith

1:00 Communal Hut
Scrapbooking
Carol Sanderson

1:00 Rob's Camper
Wheel bearing maintenance
Rob Sanderson

3:00 Donna's Camper
Dreampot workshop
Donna Zwerus

3:00 Jill's Camper
Cobb workshop
Jill Skinner

3:00 Communal area
Kids treasure hunt
Cassandra & Hayley Beckwith

3:00 Carolyn's camper
Cooking with alternate heat sources
Carolyn Davis

4:00 Communal Area
Closing Event
Kevin & Rob

5:00 Communal Area
Tame the toilet tent & Happy Hour

Evening

7:00 Jamie's Camper
latest in 12volt lighting
Jamie Hazelden

7:00 Communal Hut
Trivia Night
Dave & Jan Cook
details>>>>>

donations for Condobolin Lions Club + auction
introduction
attendees
monday
tuesday
wednesday
thursday
friday
photos
photos2
photos3
photos4