alexandra & ivan's
adrenalin camper trailer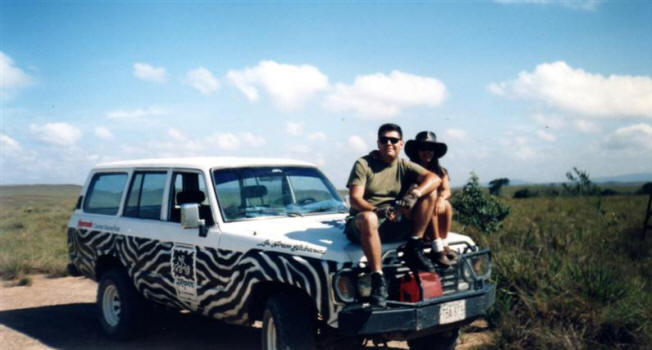 working as tour guides in Venezuela
It all started many, many moons ago when we met in South America working as tour guides (it shows there is a pre-existing condition to loving the outdoors!!!)
In the beginning we were trekking and mostly backpacking in a two man tent, sleeping bags and a metho cooker, but there is a limit on the amount of gear you can carry on you back for long periods of time and given that Australia is such a big country it was an obvious progression to start carrying the gear in the boot of the car.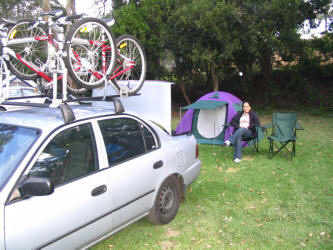 camping with the Corolla

The little Corolla was soon not large enough to carry the gear for a couple of weeks camping so we changed to a Mitsubishi Challenger. With all that extra space came the purchase of a bigger tent, one where we could actually stand up inside!!!. Chairs, tables, stretchers, kitchen and the lot. It was then time to buy a trailer to carry and store permanently, all the camping gear.
For that we did a bit of research and we decided that instead of buying just a 6x4 box trailer we would try to get an actual trailer for a camper trailer first as the budget was very limited. By pure chance , Alexandra called Adrenalin Camper Trailers in search of a trailer and John Rodriguez was kind enough to enquire what we were actually looking for (they only manufacture hard floor campers now). At the time they had just stopped manufacturing soft floor campers so they happen to have just one last trailer laying around in the shop. He invited us to drop by his house on the weekend to have a look at the trailer (that is what I call personal service).
The trailer was magnificent and on budget, so we bought it. The camper was much bigger and with more inclusions than what we expected. The trailer is 8foot by 6foot with high sides, six locking storage compartments on the sides and with an actual 8foot by 4foot internal tray of storage space, LED lighting, six leaf eye to eye suspension, 45mm solid square axle, long drawbar, stone guard, front mounted spare and with new wheels and tyres unlike some of the other trailers available on the market with second hand wheels and tyres.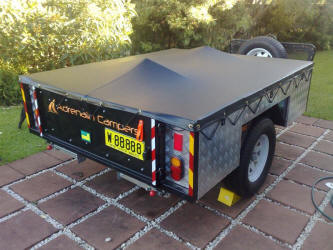 first steps - just the trailer
At that time there was no money for a tent so I made a PVC tonneau cover to keep the gear dry. It worked for a couple of years but I got tired of assembling and disassembling the eight man Geodesic Tent, especially in the rain, so it was time to purchase the rest of the camper trailer..... the tent.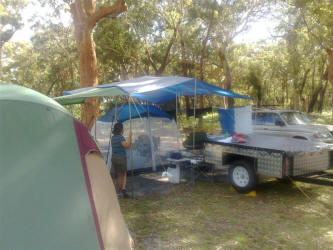 camping with the Geodesic Tent

Naturally it was then that we approached John from Adrenalin Camper Trailers again to give us some advise on what to buy and install - we had in mind just an ebay tent. He advised us to buy a tent from a reputable tent manufacturer or at least someone that could actually give us some sort of guarantee on the tent. Even better, he then offered to use his tent supplier to manufacture a tent for us and gave us a couple of models to choose from. We settled on a symmetrical 24 footer complete with annexes giving us a whooping 24foot by 18foot (7 metres x 5.250 metres) footprint!!! The tent is manufactured in heavy duty dynaproofed canvas in beige and chocolate colour.
I installed the tent myself with his help over a weekend and in December we were set for our maiden camping trip in full luxury.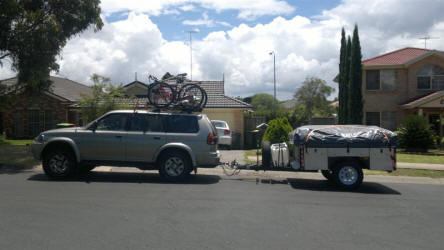 ready to go now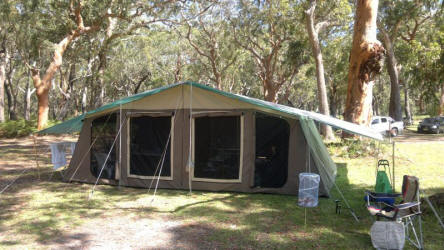 front view of the fully assembled tent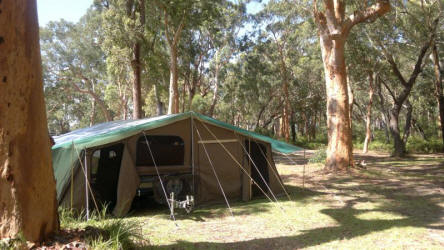 rear view of the fully assembled tent
What can I say..... we've got the bug now!!!!

Thanks to Ivan & Alexandra for this article.
march 2012