dave & cris's
aussie jays camper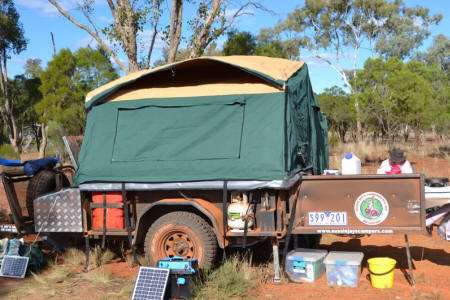 There is just such a huge selection of camper trailer manufacturers compared to a few years ago. One of the booming markets in sales of recreational vehicles and more so dual cab utes as is the camper trailer segment at the moment. Choosing a camper trailer that fits within your budget and with all the goodies you want is a chore. The amount available on the market can really chew through your thinking progress and send you into the land of confusion as to which model to pick.

I recently went through this process and after 18 months found a manufacturer that I was happy with to build me a trailer and listen to what the customer wanted. In a sense a rare find as with quality over quantity, sometimes vice a versa is the priority of some other manufacturers. After looking at hundreds at shows and on manufacturers premises I managed to find one on Ebay of all places. Brand new and bang on my budget!

Jason Donnelly and his lovely wife Rebekah run Aussie Jays Campers and are relative new comers to the camper trailer scene. With a history of building boat trailers Jason started on camper trailers by building his own and after the relatives seeing the results they started ordering.

Now living in a town house doesn't give you a lot of room to build these trailers and after struggling through building quite a few Jason moved into his current factory premises at Williamstown 18 months ago. With something like 260 built so far you can bet Jason is in it for the long haul.

As for quality I dropped into the factory three times before ordering a Big Red model. Being fussy with quality control you will find Jason basically does all the work himself. Seeing these trailers in various stages of build and discussing with Jason about the process and quality of material he uses (all Australian steel) on the trailers after the third visit it was a no brainer for me as to whom was building mine.

But not only are the trailers built with long term reliability in mind, Jason and Rebekah have chosen the Austrack range of tents to sit on top of his off road and on road models.

With a choice of 9 foot or 12 foot tents Austrack have a good reputation of being one of the better quality canvas tents around on the market today. Also the great news is the Austrack comes with a screened annex and a full canvas annex in the package, so no need to purchase any add on pieces for the tent.

With three models to choose from you get a choice of a semi off road model or two off road versions with the Big Red model being the most popular with the customers. With fantastic features of two jerry can holders and a 4 kilo gas holder, 59litre water tank with stone guard, toolbox and a stainless steel kitchen plus a myriad of other features as standard, they really are great value for money. Best of all Jason will customise a trailer to suit whatever your chosen tow vehicle is and with a 12 month warranty on the trailer and Austracks 12 month warranty on the tent you can be assured any problems in that time frame will be rectified.

You can find Jason working away at factory 2/11 Macaulay Street Williamstown in Victoria during the week and Saturdays if you want to drop in and have a good yarn about his trailers or alternatively his website https://www.aussiejayscampers.com And no doubt you can ring Jason or Rebekah on 03 9397 5217 to discuss your specific requirements or just to get quotes on the range of trailers they offer.

As for me I have just taken my camper for a 2,500 kilometre journey and it handled all conditions on and off road well. No more sleeping in tents on blow up mattresses for me and the wife and you could say I have put myself back into the category of being a 'Happy Camper' again.
Thanks to Dave Howard for this article.
january 2012