Camper trailer owners' visit a boost for Gulgong
businesses and community
October 2nd 2015

Around 220 members of the Australian CamperTrailers expect to spend an estimated $50,000 in and around Gulgong this week.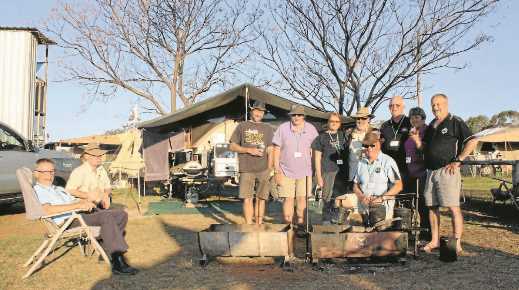 David Cook of Cherrybrook, Jim Roche of Douglas Park, Nigel Welsh of Hornsby, Mal Lacy of Millthorpe, Anna and Des Matejka of Sydney, Craig Quinn of Forestville, David and Joy Wilkinson of West Pennant Hills and 'Beery' of Bateau Bay.
The far-flung camper trailer owners usually convene via internet and occasionally for smaller weekend getaways. But once a year, members from all over Australia gather for a national meet, each year in a different town.

"We try to go to small communities that can benefit from having a couple of hundred people in town for a week," said Kevin Phillips, of Carwoola, near Queanbeyan.

Mr Phillips said the group is expected to spend a combined $50,000 in the region on camping fees, food and petrol, and shopping in local businesses.

Gulgong Showground was chosen as the venue for the 11th meet because it was big enough to hold 100 camper trailers, with power, good drinking water and showers and toilets available.

"We also need to have a group of local people to help us and we found that in the Show Society, the Showground Trust, the Chamber of Commerce, the Prince of Wales Opera House and the Holtermann Group," Mr Phillips said.

Since the meet opened on Sunday, the visitors have been busy exploring Gulgong and the surrounding area, enjoying guided tours of the Prince of Wales Opera House and Henry Lawson Centre and a special performance at the Opera House by Gulgong MADS.

The meeting also features sessions on everything a camper trailer owner could want to know, from what you need for "freedom camping" (camping away from areas with power supplies), camp cooking, travelling with dogs, camper maintenance to first aid travel kit necessities.

But for many of the camper trailer owners, who have travelled from as far away as Adelaide, the main attraction is the opportunity to meet with fellow travellers.

"Some really good friendship are made at the meets," said Jason Cox of Kirrawee, Sydney.

"I think a lot of it is the camaraderie that everyone shares, and getting together with people you may only see once a year in a place that at another time you might just pass through."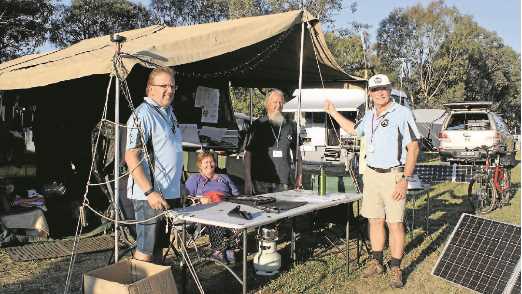 Jason Cox of Kirrawee, Sydney, Carol Sanderson of Stockton, Rob Sanderson of Stockton, and Kevin Phillips of Carwoola at the Australian CamperTrailers national meet at the Gulgong Showgrounds.

$3300 donation for Holtermann Museum
The Gulgong Holtermann Museum Committee has thanked Australian CamperTrailers for a donation of $3300 to assist with restoration of the Mayne Street buildings.

"The Gulgong Holtermann Museum is the group's chosen beneficiary, and my committee is very grateful for the $3300.00 raised this week at an auction of donated goods, capably run by Bruce McGregor," committee chairman Chris Pearson said.

"Thanks to everyone who provided quality items for the auction.

"We trust they have enjoyed all Gulgong has to offer-the newly equipped showground facilities, the eateries and history of Gulgong, along with the great entertainment provided by Gulgong MADS," Mr Pearson said.

The committee plans to spend the donation on further restoration of the façade of 'The Greatest Wonder In the World' and 'American Tobacco Warehouse', which will house the Holtermann collection of photographs of Gulgong in the goldrush era.
reproduced with permission of the Mudgee Guardian