max & diane's
adventure up north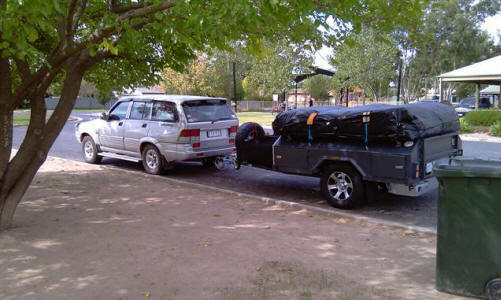 My wife and I have loved camping for many years and like most started off with a tent, sleeping bags and a torch. Our love for camping came from me spending time in the Army and going out on exercises to remote area's and my wife's love came from her mom and dad purchasing a camperet (6 x 4 trailer with a tent attached) then caravans. Our first tent together was a family sized dome tent which got a bit of use but not as much as we would have liked but it did the job.

Now years later and with a young family we decided to purchase a camper trailer as it is more family friendly. I had been looking around at the lower end price bracket of trailers as we could not afford much but at the same time wanted the best value for money to suit our needs. After looking around at our price range we came across E&Z Trading campers and decided to have a look. We liked them but something was telling me "NO" look elsewhere, so I did and found a small manufacturer based in Campbellfield, Victoria who built camper trailers and motorbike trailers. We went and had a look at what they had to offer and I must admit was quite surprised and happy with their trailer as it just about had all of our needs covered. Now the wants in a trailer come latter for us.

We said yes and purchased our new camper trailer. It was made by - Adventure Camper Trailers and the model is the Up-North. I must say it is a BIG camper compared to others we had looked at but having a young family we decided we needed the room to move and be able to carry all of the kids' stuff too.

The trailer is heavy being made from 3mm checker plate steel, an extended draw bar with spare wheel, two 4kg LPG cylinder holders and two 20litre jerry can holders plus a huge tool box which I might add also is made from the 3mm checker plate steel. So you can see that this is one heavy duty trailer. Inside the trailer it has full stainless steel pull out kitchen with sink & draws, electric water pump, stainless steel pull out pantry draw which is huge in size, two stainless steel pull out draws up front in the front lockers and two rear lockers for all the odds and ends. It is fitted with 10inch electric brakes, 7 leaf full shackle and shockers suspension, LED tail lights, off road hitch, new 235/75R15 A/T tyres and alloy mag wheels and this includes the spare tyre as well and a 80 litre water tank.
The tent is huge and can easily sleeps eight people so there is plenty of room for my family and all of their stuff. The main bed is a king sized memory foam mattress and over the bedroom section the tent is gabled roof style which is very nice and does not give you that closed in feeling when you are in bed. It is straight walled and this is one of the things I was looking at as I am six foot tall and wanted to be able to walk around the tent inside without ducking my head plus it maximises the usable area. The trailers' weight fully loaded 1495kg and the Musso has no problems towing it having a maximum towing capacity of 3500kg.

We have just returned from our first trip away with the new trailer and all I can say is that it went fantastic. Towing the trailer was easy as we own a 1998 Ssangyong Musso 3.2 litre petrol engine with auto gearbox and towing her up the Hume Hwy we forgot we were towing a camper trailer of this size and was sitting on 100 - 110kph for most of the trip. Our trip was to Tumbarumba in NSW and I must admit that place is nearly god's country. We loved it.

So far we are happy with the trailer and have already done some mods including a 12volt power system. Future additions will be a 240volt system, inverter, solar, hot/cold running water as we cannot afford to do everything at once, plus I love to improve things as well but to the stage of not reinventing the wheel so to say. One thing I am always doing is looking at other camper trailers and getting ideas for ours but these mod's will only be done if we NEED them. I am not really into the I want situation. I like the saying - KISS "Keep it simple Stupid" as if anything does go wrong then it can be easily fixed or replaced without the hip pocket being bleed to death sort of thing like what some of the more expensive trailer can do to it.

Thanks to Max Clark for this article.
may 2012