NSW members weekend
Shallow Crossing
weekend of Saturday & Sunday, 24th & 25th of September 2005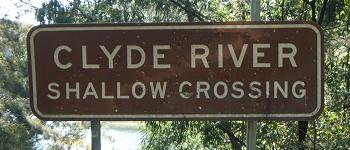 The Shallow Crossing weekend get together was the biggest group meet to date, even out numbering the first national get together held at Copeton Waters last July. In total there was 40 camper trailers & tents owned by 77 adults, 36 childern, 3 dogs & a cat.
Our camp was on private property at Shallow Crossing owned by Jim Surrey. The camping area is a large grassed area next to the Clyde River inland from Batemans Bay on the NSW South Coast.
When we arrived on the Wednesday afternoon with Wayne, Jeff, Karen & family from Melbourne with their Trak Shak had been camping since Sunday & were well & truely settled in. They had been enjoying the quietness & spring sunshine. Not long after Barry & Margaret arrived. We all enjoyed the chat around the evening campfire.
Thursday saw more arrive with the majority turning up on Friday or Friday night. A few drifted in on the Saturday. After lunch our hosts for the weekend Greg & Marge took those who were interested on a 4wd trip around the area which included a visit to a lookout & an old gold mine.
A few of us went out with Jim to cut a bit of wood on Friday & Saturday afternoon. He cut & we loaded his trailer. The ironbark burnt well into the night.
Unfortunately the batteries what looked after the fans on the composting toilets decided to call it quits leading to an unsightly smell over the weekend. It wasn't until everything was open again that Jim could get into town & buy suitable batteries that the problem could be solved. He apologizes for any inconvenience caused.
The weekend was plagued with a few showers which developed into rain by Sunday night, but that didn't seem to dampen the spirit of the meet. There were shelter sheds around the property so these were used along with a few tarps to keep the chat going into the night. The showers were annoying more than anything.
By Sunday afternoon a few members had left with more leaving Monday morning. By Tuesday only a handful remained, with the last departing on Thursday.
Bloopers of the weekend
* Peter & Deirdre locking their car keys in their Jeep & having to break the side quarter window to get home.
* Renee's burnt camp oven scones
It was great catching up with the now regular get together friends as well as meeting more new faces from the group.
Rob & Carol
name
camper
vehicle

Greg Carthew & Marge Hynoski

CUB Spacematic Offroad

2002 Nissan Ti Pathfinder

Rob & Carol

1990 Track Trailer Eagle

1990 SWB Nissin Patrol

Kevin & Karen Phillips

2005 Aussie Swag Rover LX

Jeep Grand Overland

Alan & Brenda Spencer

Customline Offroad

Troopy

Tony & Chris

Oryx

Discovery

Jeff

&

Gill, Matt

,

Ben

Trak Shak

96 Prado

Jason

&

Mary, Clayton

,

Georgia Wills

TrakShak

Land Cruiser

Brad & Soraya, Oscar (9), Boston (7), Fatima (Granny)

Ultimate

Toyo LC100

Steve & Lynn, Toby, Maddie Burns

2002 Kimberley Kakadu

2002 Toyota Prado

Ken & Renee, Mitchell (13), Lauren (11)

Kimberley Kamper

Pajero 99

Barry & Margaret

Ultimate

T/D Prado

Peter & Deirdre Clarke & Charlie the dog

Challenge

Jeep Grand Overland

Trevor & Lorraine

2005 Tambo Cooper

2001 Nissan Patrol 3.0TD

Dennis & Anne Tootill

Light Weight Camper

Jeep

Richard & Robyn Graylin

Trak Shak

2002 Prado v6

Kim & Helen, Hannah, Daniel Edwards

Central Coast Canvas

Challenger

Steven

&

Lynn, Aidan(4) & Elyssa (2)

2001 O'Briens Off Road

80 Series Landcruiser

Robert Martin

CUB Kamparoo (on road)

Ford LTD sedan (1989)

Lynn, Allan & Rachelle McDonald & friend

Ultimate Camper

1998 100 series Landcruiser

Ed & Donna, Courtney (13) Savannah (11)

Campatrek "town & country"

Nissan X-Trail

Jeff & Karen, William (8 yo) Andrew (6 yo)

Trak Shak 2000

Toyota Prado

Alan & Marie (with Deety, Chilli, Matilda(the cat)

Goldstream Wing2

'02 Subaru Forester

Dave

&

Kerrie, Hailey (11) Lachlan (10)

All Terrain

94 Nissan Patrol

Ian & Edythe Wilkin

Trek Bwana

2000 Patrol

Wayne Dwyer

Shipp Shape roof topper

98 GU Nissan Patrol

Greg & Therese

Aussie Swag

96 Pajero GLX 2.8TD

John & Ann Wilkinson

Cub Supamatic

Jackaroo

Barry & Kerry

Redback Explorer Country

2001 LandRover Discovery

Paul & Karen's

All Terrain

100s Landcruiser

Jeff & Carolyn, Ben, Tim, Julian & Samantha Cooney

Tambo Cooper

GQ Patrol

Peter & Claire, Tyler (10) Reed

Aussie Swag

Discovery TD5

Brett & Angela, Elisha 11, Jeremy 9, Natan 5

cavalier

80 series cruiser

William & Lara, Megan

Swag & small Tent

Nissan Patrol GU 4.2 T/D

David

Heaslip

Land Rover Defender

Terry

2 man dome tent

Subaru Liberty

Howard & Margaret Taylor

all terrain

80 series l/c gxl

Sue & Terry Ford

tent

Landrover Freelander

Jeff & Sandra Elliott

Cub Spacematic

Subaru Forrester